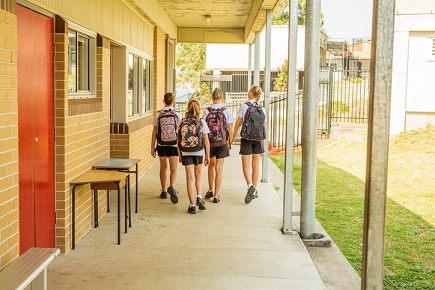 As school goes back this week, students and staff at a Sydney public school are returning to a unique 'pop-up campus' while their former site is redeveloped into a cutting-edge school of the future.
Ultimo Public School – built temporarily on Wentworth Park – is being redeveloped as part of the NSW Government's $4.2bn investment in education and will include 30 classrooms, and increase its capacity to 800 students.
During construction, the school's current 360 students will be placed in a 'pop-up school' on Wentworth Park, which is adjacent to the site.
Built over seven months, the pop-up campus has been shipped into the park where it will provide 14 classrooms, as well as a raft of core facilities including a library, school hall, canteen and administration space.
NSW Premier, Gladys Berejiklian, said the new school has been cleverly designed to maximise space for students, despite it being located in one of Sydney's most densely populated suburbs on the city's fringe.
"Ultimo has been transformed over the last decade into a cosmopolitan urban community which is reflected in the design of this brand new school," Berejiklian said, during her tour of the school with NSW Education Minister,
Rob Stokes
.
Stokes said the pop-up school has been designed to provide a seamless education experience and a novelty for the students.
"Building more schools than any point in the State's history greatly benefits the students of tomorrow, and will deliver the best possible learning environments for the students of today," Stokes said.
"This project is a fantastic educational village, inside Wentworth Park. It is my great hope that the students not only enjoy their time here, but excel."
The redevelopment of Ultimo Public School is one of 120 new or upgraded school projects the NSW Government is delivering in addition to its $747m investment towards school maintenance.
Related stories:
Groundbreaking autism school opens its gates
New 'world leading school' set to open
Govt announces plans for new 'super school'