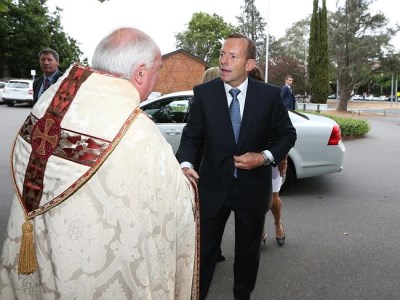 Some might say that the line between church and state has become blurry in recent weeks.
A school's choice of appointing a secular chaplain will be taken away by the Abbott Government following controversial changes to the new chaplaincy program.
Previously, becoming a chaplain only required being 'recognised through formal ordination' or by 'an accepted religious institution'
Under the changes, a chaplain will now have to be recognised by "religious qualifications or endorsements by a recognised or accepted religious institution".
The previous Labor Government gave schools the choice of religious or secular staff to work as school chaplains.
In what the
Australian Education Union
(AEU) called "an extraordinary comment", Federal Education Minister Christopher Pyne in May referred to chaplains as "the responsibility of the states and territories –".
"So where does the Australian constitution say that the federal government is responsible for school chaplains," asked the AEU Federal President, Angelo Gavrielatos.
In addition to creating controversy, the Government's changes to the existing program have also created a rush for schools around the country, desperate to secure chaplaincy funding.
With surging demand for the Government's $20,000 grant, it is believed that up to 40% of NSW schools are likely to miss out, having had just two weeks to apply as part of the National School Chaplaincy Program.
In WA, Opposition education spokeswoman Sue Ellery said chaplains and their families face a "grim Christmas" due to the planned sackings.
"It's a grim Christmas for chaplains and their families with the prospect of unemployment in the new year," Ellery said.
"At the last election the Premier promised more chaplains in our schools but under his government their numbers are being slashed."