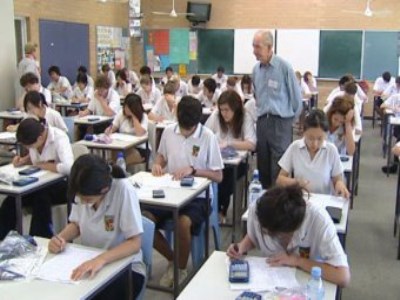 A $261m plan by the NSW Government to boost the literacy and numeracy outcomes of the state's students is having no impact, a new report has found.

The NSW Literacy and Numeracy Action Plan was launched in 2012, and included 41,392 Kindergarten to Year 2 (K-2) students in 448 schools.

The action plan aimed to increase the literacy and numeracy outcomes for students in the targeted schools, and to reduce the influence of socio-economic status as a key determinant of students' academic performance.

An evaluation report into the plan's effectiveness analysed data and found that there was a "mixed review" on its impact on student outcomes.

The report said that while some students in the program finished Year 2 with a stronger foundation in reading and early arithmetic, there remained an "unacceptably high" number of students who were still lagging behind, particularly in comprehension and writing skills.

"While the overwhelming majority of students, even those who were below expectations, did achieve some progress each year, the rate of progression of those who were falling behind remains a concern," the report said.

When it came to Year 3 NAPLAN results, there was no significant change over time for the full cohort of participating schools, and no significant closing of the gap between schools involved in the plan and those who were not.

"Schools cannot continue to dismiss their NAPLAN results as an aberration, but need to become more sophisticated in analysing the causes of under-achievement and more importantly, how to effectively respond to this diagnosis," the report said.

The report's authors pointed out that while a significant number of students in targeted schools improved in literacy and numeracy across Kindergarten to Year 2, there was still a significant number who are "below average" and who remain below average in terms of NAPLAN results.

"The apparent disparity between the improving K-2 results and the static NAPLAN results requires further consideration in the implementation of the Literacy and Numeracy Strategy, 2017-2020," the report said.