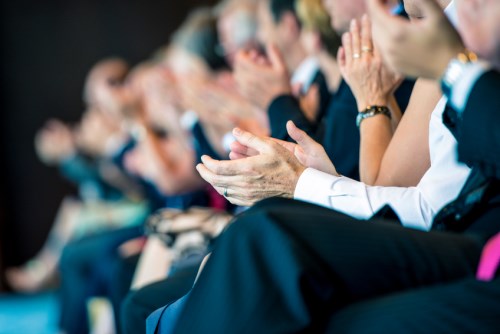 Three ground-breaking school projects were recognised for making a meaningful difference to students and the communities in which they live.
The projects, which included supporting students with a disability, improving Indigenous education and helping students prepare for life after school, were pioneered by three recipients of the 2017 Teaching Awards and Fellowship program.
The program is an initiative launched by the Commonwealth Bank in 2016 and which is being supported by Australian Schools Plus, a charity which connects donors with schools in need to improve student outcomes.
Dr Christine Roberts-Yates was one of 11 other recipients of this year's Awards.

Roberts-Yates' ground breaking research has been implemented at Murray Bridge High School Disability Unit in South Australia. The school will soon partner with the CSIRO to evaluate the educational and therapeutic benefits of digital technology for students with moderate to severe intellectual disabilities and autism.

Another recipient is Lesley Mills, the principal of Tabulam Public School, located in NSW. With nearly three quarters of its students coming from an Indigenous background, the school will build student confidence, motivation and engagement by incorporating the Wahlubal culture into its teaching and learning.

The third project highlighted was that overseen by Michael Devine, who heads Western Port Secondary College. In collaboration with its three feeder primary schools, Western Port Secondary College will intervene early in the education of a cohort of students to ensure they become meaningful contributors to society and the workforce.
Australian Schools Plus CEO,
Rosemary Conn
, told
The Educator
that the Teaching Fellows are using the opportunity to develop creative ideas through projects in their own schools.
"From developing powerful experiences for students in a very remote Aboriginal community that enable them to connect with culture in authentic ways," she said.
"For example, through to developing a whole of community approach that brings together partner schools, K-12, with supporting organisations and agencies, the projects have far-reaching potential to contribute to the direction of education in Australia."
Conn said that together with the Fellows, Australian Schools Plus will share the outcomes and learnings from these initiatives with the profession generally in order to "shape practice across differing contexts".
"The Teaching Fellows are collectively generating considerable momentum through sharing ideas and practices to grow their thinking," Conn said.
"Their collective experiences during a study tour of Singapore, plus exposure to international thought leaders in education through Master Classes, is further enhancing their development as leaders."
Conn said she expects the benefits to Australian education will be significant in coming years as the Fellowship continues to grow and school-business partnerships become more common.
"Engaging with business can definitely bring new and exciting opportunities for students and teachers," she said.
"We've heard great stories from schools we've connected with businesses, and not just about how the partnership has provided funds for equipment, activities and teacher training."
Conn said schools often value the non-financial benefits that arise from the partnerships, such as engaging with industry mentors or having access to specialist expertise.
"We do encourage principals to consider how such a partnership might assist their school community," she said.
Applications are open from September 4 to October 12. Twelve teachers or principals will receive a $45,000 Teaching Fellowship, including $30,000 for a significant project at their school, $10,000 for professional development and an overseas study tour valued at $5,000

To apply or nominate a great teacher or principal, go to teachingawards.com.au.
Hot List entries close Frida
y
To recognise the individuals who are making a significant contribution to the K-12 education sector,
The Educator
is currently accepting nominations for its third annual
Hot List
. The list will be published in issue 3.04 of
The Educator
magazine in November.
Entries close this Friday, so readers interested in being featured on the report are encouraged to
submit a nomination
online by Friday, 8 September.
Related Stories:
Exclusive: Gonski issues new call to action
Major bank makes foray into K-12 education