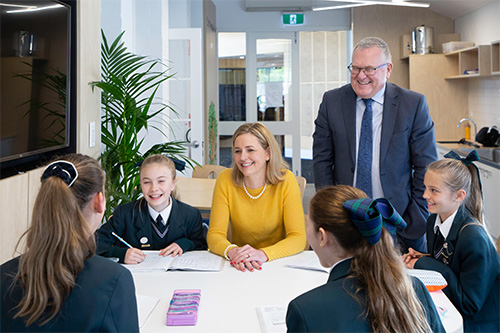 As principal of Seymour College in SA, Kevin Tutt has been helping girls and young women see their true potential, both in and outside the classroom.
Tutt – was recently named one of The Educator's Hot List 2019 winners – has overseen the introduction of the College's GIRLbeing wellbeing framework and the Strength Optimism and Justice program.
The program consists of four 45-minute sessions for every year level each week, designed to encourage the growth of gritty, resilient and independent learners in a school environment that models and nurtures the attributes of a successful woman in the 21st century.
The prominence of this program within the College's curriculum is based on Tutt's belief that wellbeing is as fundamental as academics in today's world.
Below, The Educator talks to Tutt who shares more about the impact this initiative is having.
TE: In your view, what are some of the obstacles for schools trying to promote gender equity?
KT: Girls face pressures to conform to gender stereotypes, which are stronger in the presence of boys. There is also still gender inequality in the workplace. Women are still typically paid less and have less financial and social security than men and globally only one quarter of senior officials or managers are women.
The archaic messages about what it means to be male – real men provide; real men are strong at all costs; work comes first; real men are stoic and unemotional; real men are rescuers – no longer fits, and contradicts gender equality. The Disney Prince archetype is seriously damaging and out of date. In the media, too, there is the portrayal of women as sex objects and selfless martyrs must continually be challenged. The media still have a long way to go, and a lot to answer for.
TE: What inspired the GIRLbeing wellbeing framework, and what was its implementation like?
KT: I have a strong belief that wellbeing is as fundamental as academics in today's world. We must support the physical, cognitive, emotional, social and spiritual development of girls as this fosters an engagement in learning. There are many issues and factors that impact upon the ability of girls and young women to negotiate their way through an increasingly complex and rapidly changing world. The setbacks, triumphs, hardships and successes experienced along the way, are what help students to grow, regardless of the destination. The GIRLbeing Framework guides the growth of each Seymour girl, resulting in young women with strong hearts and minds.
TE: Can you tell us about the most inspiring and powerful outcomes from the Strength Optimism and Justice program?
KT: Our three frameworks, Learning, GIRLbeing and Service Learning were all developed around our vision of nurturing and developing women of strength, optimism and justice, and reinforce the critical link between teaching, learning and wellbeing. When I see our girls graduate from Seymour, with the values of strength, optimism and justice firmly imprinted in who they are, and to see them filled with confidence for the future, this is very powerful, and it makes me very proud.
The SOJ program has provided a framework for the girls and teachers, and guides them every day. One of the most powerful outcomes is to see girls actively seeking to challenge traditional stereotypes, developing a strong sense of themselves and their value as women and developing confidence to make their own choices, free of any sense of what society expects of them. This is SOJ and it's alive and well at Seymour. I am inspired to see them develop into confident advocates and change agents in their world and to recognise themselves as young leaders.
TE: Looking ahead, what kind of future do you see for gender equity in education, and why?
KT: The future isn't 'females'. It's equal. Women's leadership and advancement will not be advanced without the support of both men and boys as they are important gatekeepers for gender equality and must be supportive to effect change.
A good education requires intelligent discussion on femininity, masculinity and broader humanity. Excellent schools encourage and assist students to realise their potential, and are designed to equip them for success and fulfilment in the world beyond. It is my opinion that this is best achieved in a single sex environment designed for, and dedicated to, the development and empowerment of successful and confident girls. As part of the Strength, Optimism and Justice curriculum provided to all girls at Seymour College, our male and female teachers develop lessons that promote gender equality. Sometimes it is what they teach. Other times it is how they teach. At all times, it is who they are. They are all fully on board and the girls know it.