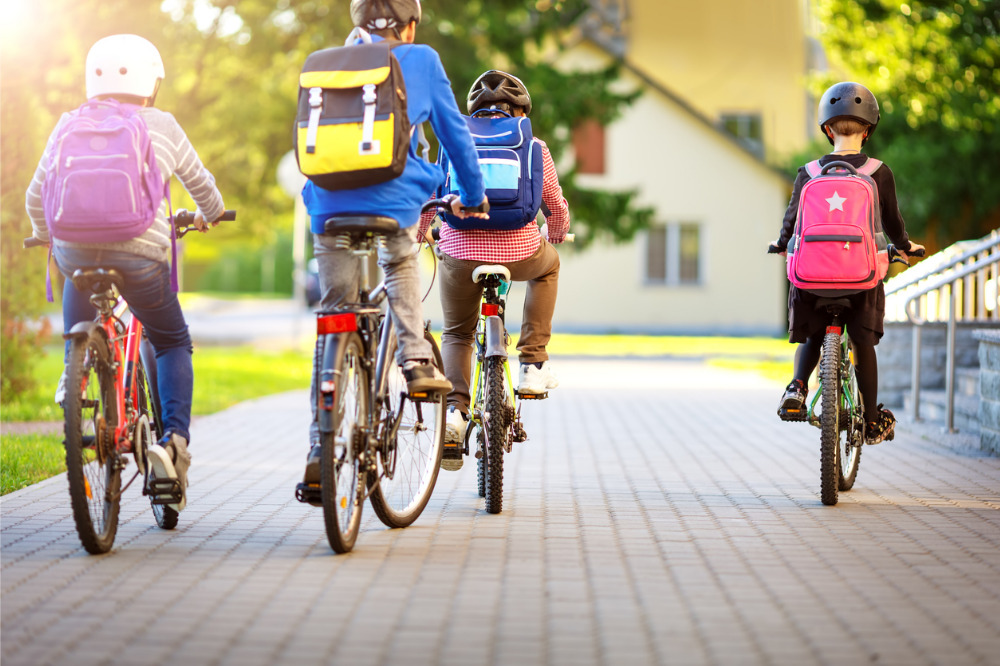 This Friday, more than 350,000 students across Australia are set to ride, scoot, skate or walk to school as part of Bicycle Network's National Ride2School Day 2022.
National Ride2School Day – a free event open to all primary and secondary schools in Australia –works to help children get their 60 minutes of daily exercise by riding a bike to school.
Bicycle Network is anticipating that participation numbers in 2022 will receive a boost from the increased interest in bike riding during the last two years of the pandemic when many shops around Australia sold out of bikes.
Mitchell Webster, who teaches in Newport Lakes Primary School's prep team, said there are many benefits from riding to school.
"It's a chance to spend some quality time with a loved one. It's also daily exercise, as well as becoming aware of the road rules," Webster said.
"My advice to a parent thinking about their child riding to school for the first time is to take your child on a practise trip before school or on the weekend. Know how to correctly use the safety features of a bike such as the brakes and helmet."
Carla Dodd, a teacher at Gisborne Primary School, said there are mental health benefits, as exercise releases 'feelgood' chemicals in the brain that make students feel happier.
"There are social benefits when riding with friends. We have so many students that ride with each other to school," she said.
"If it is the first time riding to school, parents can either ride with you or walk along side of you. You can also join a friend or group of friends and ride to school together. If students are nervous, they could do a family ride of the route in the lead up to the day".
Bicycle Network General Manager of Behaviour Change, Leyla Asadi, said principals play a key role in ensuring National Ride2School Day is a success.
"Students always look up to role models, and if we want to show the next generation that getting your daily exercise is not only important but also easily obtainable, we need to lead by example," Asadi told The Educator.
"On the day, School Principals won't have to worry about the car park crush. By actively traveling to school, children will get a great burst of exercise and arrive at school happy, energised, and ready to learn".
Asadi said that in the 1970s, 8/10 students rode or walked to school.
"Today just 2/10 students actively travel to school. We need to reverse this unhealthy trend, and National Ride2School Day is the perfect day to start."
Charlene Robson, principal of St Michael's Primary School in Tallangatta, said Ride2School "encourages, empowers and enables more students to get physically active on their journey to school".
"It offers the opportunity for students across Australia to ride, scoot, skate or walk to school so that they can create healthy habits for their future by being physically active," she told The Educator.
Robson's Ride Ready Tips for parents before National Ride2School Day:
• Helmet - Does your child's helmet move around when you wiggle it on their head? Can they salute two fingers between their eyebrow and helmet? Adjust to a snug fit.
• Firm tyres - Fully inflated tyres make riding easier and are more resistant to punctures. Check for the correct tyre pressure on the side of the tyre.
• Check the brakes - It is important that your child is able to stop quickly. Check that the bike brakes are working before you set off.
• Be heard with a bell - All bikes need bells. It is also good practice to encourage them to use their voices.
• Be warm and comfortable - Wear clothes that are comfortable to ride in and will keep you warm when it's cool or cool when it's warm.