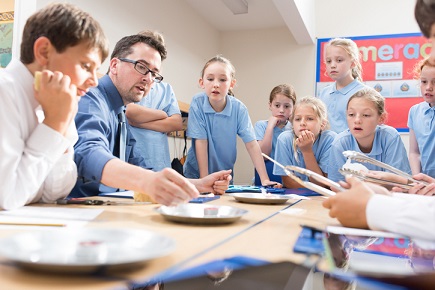 A groundbreaking initiative is giving 21st century learning a shot in the arm by combining evidence-based practice with an inspiring opportunity for teachers – to rub shoulders with some of the biggest names in education.
The 'Deeper Learning' approach has its roots in a revolutionary concept developed by German-Jewish educator Kurt Hahn in the 1920s.
Hahn believed that students were corrupted by society as they aged, but could avoid this if schools gave them opportunities for personal leadership over their learning and the ability to see the results of their own actions.
With digitisation and automation continuing to reshape the way industries work, and the skills that are required by the employees working within them, the NSW Department of Education considers deeper learning a critical part of preparing students for the future.
NSW Principal Paul Taylor's use of deeper learning at Turramurra North Public School allowed him not only to significantly improve learning outcomes between 2014-2017, but spearhead the iOnTheFuture (iOTF) initiative, which came to life in 2013, when Taylor was Deputy Principal at Carlingford West PS.
Through this empowering learning journey, Taylor's students and staff engaged with some of the most prominent educators in the world, including Harvard University's Ron Berger and Eric Mazur, technology integrationist, Kevin Honeycutt and Dean Shareski, the Community Manager for Discovery Education in Canada.
The event, aimed at building case for and effective implementation of future-focused pedagogy, deeper learning and student led assessment, has doubled in size over the past four years, attracting 700 teachers and 161 schools at iOTF4 in 2016.
Since last May, Taylor has been the head of Banora Point Primary School, which will soon host iOTF in August, bringing together prominent speakers such as High Tech High founder, Larry Rosenstock, Libby Woodfin from Expeditionary Learning and Mark Scott, the NSW Department of Education Secretary.
Taylor said the keynotes will expand the 'why' and the 'how' of the changes that schools face as they move from a model of servicing student content consumption to enabling learners to be effective contributors and producers of content for the real world.
" iOTF offers school leaders and teachers the opportunity to engage face-to-face with the leading minds of the widely acclaimed and researched US Deeper Learning movement," Taylor told The Educator.
"Attendees can expect to not only be reminded of why a shift from the traditional 'industrial model' of education should be considered as we respond to a rapidly automated world, but how this can be achieved through rich pedagogy centred on the development of student ownership and purpose for learning."
Taylor said that principals and teachers who attend will also discover how student-led assessment practices and project-based learning "form the foundation for the pedagogical shift away from shallow content consumption to deeper [applied] learning".
"Attendees will learn what it takes to move learners to be 'inside their learning' so they may develop their person for the rapidly arriving digital age," Taylor said.
"Our aim is to offer an opportunity for schools to send staff to a world-class professional learning for a reasonable price. As the event is on a Saturday, no casual supply is required; ideal for a School Development Day."
Taylor said school leaders can expect to send large groups of staff for as little as $340 (ex GST) per person – or $6,800 for 20 or $13,600 for 40 staff.
Related stories: