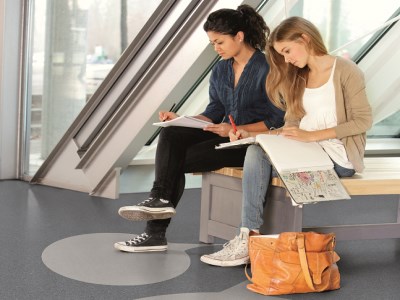 A new study has found a link between the quality of indoor learning environments and student absenteeism.
The University of Melbourne's
2016 Towards Buildings That Thrive
Report found that students with asthma miss on average three more school days per year than children without asthma and have an increased risk of suffering a learning disability or behavioural issues.
Could this be a factor flying under your school's radar?
The Educator
spoke with Dr Robert Crawford from the University of Melbourne's Thrive Research Hub, who said air quality, thermal comfort, acoustic performance, and the presence of microbes can affect the health and well-being of students.
"As students' immune and other systems are still developing, they are more susceptible to health issues due to poor air quality," he said.
"The presence of microbes and particulate matter can result in sickness [also known as sick building syndrome], which can include headaches, dizziness, skin, eye and throat irritations, nausea, and asthma."
How safe are our classrooms?
Crawford pointed out that as around one-in-nine students have asthma, indoor air quality has "considerable influence" on the health of students.
"Students tend to sit on or closer to the ground and so cold/hot surfaces tend to have a greater effect on the thermal comfort of students," he said.
"Students with asthma tend to miss on average three more school days per year than those without, affecting their ability to learn. Poor acoustics within learning environments can significantly hinder student's concentration and reduce the effectiveness of communication between teacher and student."
Tarkett is a company that provides integrated and coordinated flooring solutions. The managing director of its Australasian division, Ralph Jorissen, told
The Educator
that student interaction with flooring is much higher than with any other element of the buildings they are in.
"We see this most often with children in preschool and early primary school where crawling, playing with toys and many other group activities are done on the floor," he said.
Jorissen pointed out that toxins emitted from flooring are often overlooked with toys and craft products, taking the spotlight when it comes to the safety debate.
"Because children's immune systems are still developing, they are more vulnerable to the effects of the toxins emitted in building materials than any other group. The condition of the physical environment can spread or exacerbate illness such as asthma or allergies," he said.
An increasing trend
Jorissen said he saw a future in which materials used in building – and especially in floor covering – will be more considered to ensure they are harmless to both students and teachers.
"This will include sustainable materials like Tarkett's state-of-the-art asthma and allergy-friendly phthalate free flooring solutions with low Volatile Organic Compounds (VOC) emissions, 50 times below the industry average," he said, adding that schools will likely increase their use of materials, such as the newly launched Tarkett iQ ONE.
"The need for the industry to change and follow this trend will only grow, as the environmental and financial costs to keep doing what we've been doing for more than one hundred years will increase substantially.
"Raw materials are becoming scarce and thus their cost will become increasingly higher. While it might cost a bit more to use responsibly engineered materials today, the cost will decrease as the technology becomes more mainstream and demand for it increases."
Off the back of the research that has been done, Jorissen shared some advice for principals who are considering upgrades/renovations to their schools' learning spaces:
Look for healthy more sustainable options for students and staff
Cost should not be the decisive factor in your decision making
Choose the product that could be regenerated/recycled instead of discarded
Cradle to Cradle philosophy instead of Cradle to Grave