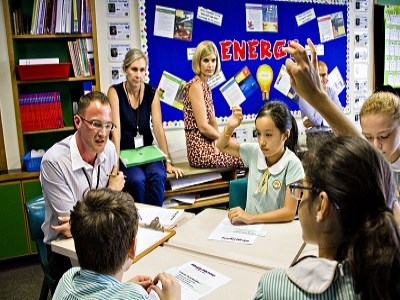 A lot can be said about how a teacher carefully observes student comprehension to improve their learning. The same goes for teachers and their peers.
An increased focus on this practice is getting results, which is why the NSW Government recently spent $224m to
help
the state's public primary schools develop it in their classrooms.
In a statement, NSW Education Minister,
Adrian Piccoli
said the Quality Teaching Successful Students (QTSS) program was launched in response to principals who had asked for more time and resources to develop peer observation and mentoring.
"Principals have asked for more time so their teachers can work together to hone their teaching skills to improve student results," Piccoli said.
"Through QTSS we are investing more than $224m so that more than 1,000 of our best teachers can mentor and develop their peers."
In their
journal
, '
Seeing is believing: benefits of peer observation',
authors, Graham D Hendry and Gary R Oliver from the University of Sydney, wrote that the benefits for observers include learning about a new strategy and enhancing their confidence to try this strategy in their own teaching.
"Watching someone teach well inspires us to try the strategy, and when we too are successful, our belief in the usefulness of what we saw and what we are capable of is enhanced," they wrote.
The roll-out of the QTSS is being helped along by a provision giving principals the freedom to decide how to best use their resource allocation.
Red Range Public School principal, Pam Murphy, told
The Educator
that her school would be using its share of the $224m allocation to roll out peer observations which she said would enhance teaching and learning.
"Red Range Public School is a member of the Celtic Community of Schools, and as such has a great working relationship with other schools in our region – both big and small," Murphy told
The Educator
.
"We will be using our allocation to allow teachers in our community of schools, to participate in peer observations each other's lessons."
Murphy added that there were many benefits associated with peer observation, with the main purpose being to enhance the teacher's own learning and teaching.
"It can also bring improved quality of student learning, an increased awareness of what material colleagues are covering, and dissemination of ideas about best practice.
"Peer observation works to build supportive teams and increases the repertoire of teaching strategies," Murphy said.