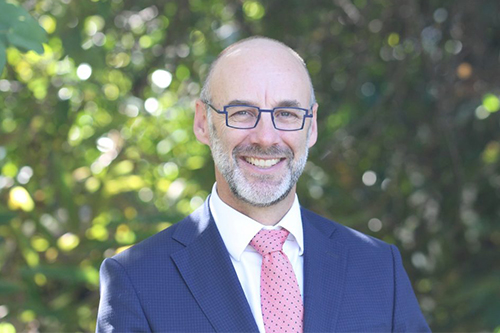 When the CSIRO released its Australian National Outlook 2019, it identified trust as one of the future key challenges the nation faces in relation to governments, business, non-government organisations and the media.
For school principals, trust is perhaps the most important part of getting their job done – not only because they require the trust of their staff when embarking on teaching and learning initiatives, but because trust is at the heart of a school's brand.
One school leader who knows this well is St Paul's School headmaster, Dr Paul Browning, who has been a principal for more than 20 years.
Dr Browning is listed amongst the world's 100 most innovative learning organisations by Cambridge University's Innovation 800 series and was awarded School Principal of the Year - Non-Government at the 2019 Australian Education Awards. At the following year,'s Awards, St Paul's School won Australian School of the Year.
Today, Dr Browning published a book titled 'Principled: 10 leadership practices for building trust', which offers timely advice on the key practices that can help executives build and develop skills to become more trustworthy leaders.
Below, The Educator speaks to Paul's School principal Dr Paul Browning about some of the key takeaways from his new book and how his school will be building on its strong culture of innovation and educational excellence to break new ground in 2020.
TE: There are many school principals feel that the Department doesn't trust the profession as much as it should. What do you think is the most compelling argument in favour of trusting and empowering the principal profession?
PB: "Red tape" is the biggest inhibitor to innovation. When decision-making is taken away from people, they lose the capacity to not only think for themselves, but to try new things, to respond to the communities they seek to serve. If bureaucracy continues to impose KPIs on schools, to direct their work, then the other vital aspects of an education worth having will be marginalised and squeezed out. Teachers, like doctors, lawyers, accountants, etc. are professionals. They should be trusted to do their job, trusted to take risks and try new things. Principals likewise. Of course, there should be levels of accountability, but balanced with supportive feedback and continuous professional growth.
TE: In your book, you highlight 10 key practices that can help executives build and develop skills to become more trustworthy leaders. Are you able to provide us with an overview of these?
PB: My PhD work was about the practice of highly trusted transformation leaders. A multi-case study of four such leaders uncovered 10 key practices that each of those leaders were doing to engender a culture of trust. These are practices that any person in a leadership position can get better at. We are all trusted to a degree, the question is, "how much are you trusted?" The primary job of any leader is to grow the culture of trust through the betterment of their leadership practices; practices like listening, coaching and mentoring, making consultative decisions, and admitting your mistakes. The book tells the story of an organisation that lost trust and then had it repaired. It is the story of how that occurred. It is a very practical book for anyone in a leadership role.
TE: In your book, you also note how it is less likely that a company will be able to innovate and remain competitive if trust is low or absent. Can you tell us about this important issue in the context of a K-12 school?
PB: The biggest asset of any organisation are its people. 'Together' we can do amazing things, but only if we trust the people that we employ to do their jobs and encourage them to take risks. Kodak is a great illustration for this point. In 1976 one its employees took a prototype digital camera to the executive. The executive responded: "that's nice, but it's not our future." The technology was shelved and as a result, Kodak missed a significant opportunity. The same for schools. Teachers are in the game because they want the best for children. They are professionals. It is amazing what can occur when we trust them to do their job and try new things. Without trust St Paul's School would never had been awarded the Australian School of the Year in 2019.
TE: How is St Paul's School building on its strong culture of innovation and educational excellence to break new ground in 2020?
PB: The culture we have created is facilitating a natural momentum, supporting continuous innovation. Our unique pedagogical framework, Realms of Thinking, is embedded across the school, fostering creativity not only in the minds of the students, but also the staff. More and more businesses are coming on board with our Design Led Venture program, seeking to have their problems solved by the students. RACQ is the latest business to come to us. A team of our students will be working with them to redesign their Free 2 Go Youth program.