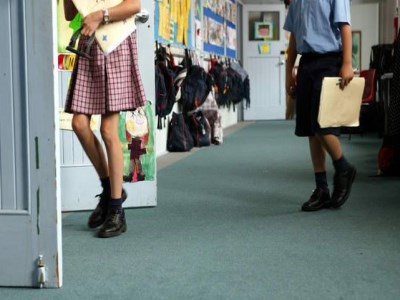 As the nation marks White Ribbon Day to raise awareness about domestic violence, a flurry of activity aimed at how to prevent this problem is taking place in schools and their communities.
In major push to boost this awareness further, the NSW Government has started distributing kits to state schools in the hope that they will teach children how to better protect themselves and their family members from abuse at home.
The NSW Minister for the Prevention of Domestic Violence, Pru Goward, said directly targeting the issue of domestic violence in classrooms would allow students to better protect themselves and others.
"By educating and working with our young people we can ensure they are empowered with the knowledge of what domestic violence is and how they can identify possible ways to protect themselves and others," Goward said.
However, Youth Action, the peak body for young people and youth services in NSW, said while the tool kits were a "first step", they would fail to deliver adequate change without a strong proactive response from society.
The group's managing director, Katie Acheson, told
The Educator
that programs like Our Watch take a "whole of school approach" and train both students, teachers and the wider community about how to identify and prevent domestic violence.
"There's some great evidence that Our Watch have put together. They're doing a trial in Victoria at the moment of a whole of school approach, which ensures schools have a singular approach to domestic violence prevention," Acheson explained.
"Schools are underestimated when it comes to this. It's very important for people in positions of influence, such as principals, to reflect on how they can help turn things around."
Acheson added principals have "a great opportunity to make some big changes" in changing student attitudes towards women, particularly when it comes to the perceived responsibility of males as dominant partners in relationships.
"We need social change. You can't just do that by teaching individual classes," Acheson said.
"We applaud the government for taking this positive first step, but a tool kit doesn't ensure teachers are trained and doesn't involve the rest of the community, which is where we need to be having these conversations."