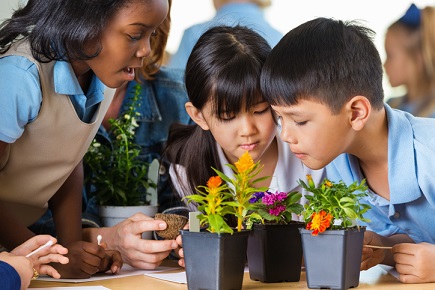 This week, more than 11,000 scientists from around the world declared a "climate emergency" and warned of a "catastrophic threat to humanity".
To address this, the Italian Government announced that from September 2020, climate change and sustainable development will be mandatory studies in all of the country's schools.
The world-first curriculum was revealed by Italian education minister Lorenzo Fioramonti, who said the changes will take effect from September 2020 when the country's school year starts.
Under the sweeping changes, students will study the topics for almost an hour each week. Sustainable development will also be incorporated in existing subjects in the curriculum, such as mathematics, physics and geography.
There is mounting pressure on the Australia's education system to do the same.
Last month, the Federal Government received a petition with record-breaking 370,004 signatures to declare a climate emergency.
While there has been little movement on a national level, the NSW Government, for one, is seeing that the state's schools do not waste their resources – especially those affected by drought and bushfires.
The Australian Electoral Commission (AEC) will be giving out nine pallets of unused election stationery to the Education Department's offices in Armidale, Broken Hill, Deniliquin, Dubbo, Grafton, Moree, Tamworth and Wagga Wagga before these are distributed to various schools.
The pallets carry reams of coloured and white papers, highlighters, pens and pencils, calculators, sticky tape and sticky notes. AEC will also include some 2,500 small first aid kits in their donation.
"Running a manual event so large in scale means we are especially mindful of our footprint, so it is terrific to be able to work with agencies like the Education Department to ensure election stationery can be re-used," AEC Director of Supply Chain Rasmussen said.
Rasmussen added that the supplies – which were left over from May's federal election – may not last until Aussies head back to the polls in 2022 and that it may be cheaper for the AEC to buy new election stationery than to store the unused materials.
"Schools are fully resourced with stationery, but those in areas of stress from the drought or bushfires will welcome any extra flexibility in their budgets created by the donation of additional products," NSW Education Minister Sarah Mitchell said.
Long-term solutions in mind
Government aside, educational institutions also have a hand in making sure that future generations will be well-equipped in not just continuing, but also thinking up new sustainable practices.
In a recent article published in The Conversation, University of Wollongong (UOW) Senior Lecturers Belinda Gibbons, Bonnie Dean and Stephanie Perkiss suggested a number of ways schools can engage their students to improve their sustainable practices.
UOW itself helps high schools design initiatives to achieve Sustainable Development Goals.
"Research shows kids are more engaged when they're actively involved in their learning, rather than learning passively through listening or reading," the article read.
"Schools can engage students in being environmentally conscious by taking steps to become more sustainable themselves."
The authors listed a number of schools already making significant efforts in having more environmentally-sustainable facilities and operations such as using solar panels. Some schools, like Dapto High School, already have a number of Hivve sustainability classrooms.
The Hivve allowed both students and educators to monitor how much energy a room is using and know if the lights or air-conditioner are left on in a room, helping them save costs in the process.
The technology also allows schools compare how much energy they are using compared to other schools.
Other schools in NSW also make use of waste management audits, which is conducted by a team of students at Edmond Rice College. The school noted that through the use of sorting and recording of waste, they managed to send less waste to landfills and recycle up to 100 kilograms of paper.
Holy Spirit College also got their students involved through the formation of a student environment group, who were put in charge of recycling plastic bottles and cans as well as raising environmental awareness through various student-led activities.