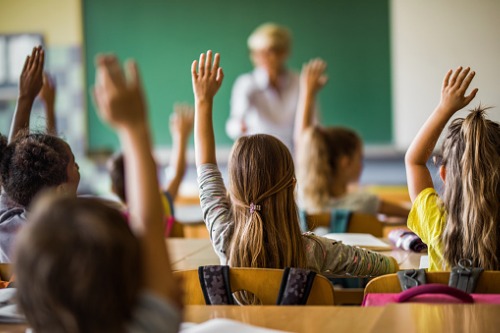 As students increasingly become conscious, and involved, in societal and environmental issues, one state's Catholic schools are insisting that keeping kids inside classrooms is far from an outdated concept.
On Friday, a global climate strike kicked off in more than 150 countries, spurred on by Swedish environmental activist and school student, Greta Thunberg, who started the movement in 2018.
In Australia, tens of thousands of students joined the 'School Strike 4 Climate', demanding that the Federal Government take action against climate change. The movement's organisers said the recent string of rallies saw as much as 300,000 participants in Australia.
Students skipping school to partake in these protests is not new and oftentimes encouraged despite reservations from public officials.
In March, amid the ongoing protests, Federal Education Minister Dan Tehan, said that while students can take action on issues they care about, it should be done outside school hours or on weekends.
However, the then NSW Secondary Principals Council president, Chris Presland, begged to disagree, lauding the students who took to the streets and bucked the stereotype that today's youth are "addicted to their phones and apathetic."
Classroom discussions and student strikes
Catholic Schools of NSW (CSNSW) chief executive officer, Dallas McInerney, however, stressed that students would have to balance out these kinds of activities by still remaining in school.
"While we are pleased to see our students passionate about the environment, the best way for young people to really make a difference is to receive a quality education in the classroom – inquiry through scholarship," he said.
"Skipping school doesn't change the world, and we don't accept there needs to be a clash between attending class and caring about global issues."
McInerny further explained that discussing pressing issues in class with the guidance of teachers would give students – especially those in Catholic schools – a more balanced point of view and provide the necessary skills to change the world as they become adults.
"Our Church has a long tradition of Catholic social teaching, at the centre of which is the dignity of the human person and the common good," Council of Catholic School Parents executive director Peter Grace said.
Catholic schools in particular are guided by 'Laudato Si', Pope Francis' second encyclical which touches on environmental issues.
"This tradition is best served by school students receiving a sound education in which they discuss topical issues in the classroom setting," Grace added.
Efforts not enough
The initiative to become more involved in social responsibility and environmental sustainability is not limited to students alone.
Educational institutions are also getting more proactive in guiding their students to become environmentally conscious, from taking part in a school program to teach students how to conserve water to requiring students to tend to trees and produce grown in school premises.
Some schools have also been making changes to become more environmentally sustainable, such as Bracken Ridge State High School and St Christopher's Catholic Primary School, which received funding in a bid to be powered by 100% renewable energy.
However, this is not enough as schools are often left to develop their own ways to include the topic of climate change in their curriculum, writes Hilary Whitehouse, an associate professor at James Cook University, and Larraine Joy Larri, a research fellow and PhD Candidate at James Cook University's The Cairns Institute.
In their article published in The Conversation, Whitehouse and Larri pointed out that Australia does not have an extensive national education program to address climate change despite the Australian Institute for Disaster Resilience having identified education as a priority in understanding risks climate change pose.
"In the last decade, state and federal governments have shied away from systematic, climate change education," Whitehouse and Larri writes.
"That's despite the real risks to all Australian children and young people who are facing the prospect of diminished lives without climate stability."
While states and the Federal Government move a snail's pace and schools may only do so much, Grace said that students need not limit themselves to dialogues with peers and teachers, as they should also engage their families in discussions about global issues.