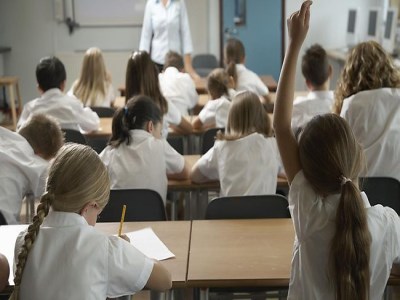 In February, an education research brief from public school advocates Save Our Schools (SOS) revealed that the gaps in access to education resources between advantaged and disadvantaged schools in Australia are among the largest in the world.
In a statement, SOS' national convenor, Trevor Cobbold, said private schools are "better equipped in terms of human and material resources" than public schools.
However, according to Turramurra North Public School principal, Paul Taylor, this isn't the case – at least not with NSW public schools, which he says are "very well resourced" in 2017.
"Resource Allocation Model [RAM] funding in NSW has brought levels of resourcing to NSW Public Schools that provide substantial opportunity to support learners in all communities equitably," he told The Educator.
Turramurra North's Year 5 writing performance has shown outstanding improvement in national assessment in recent times, arresting a five-year slide in 2016.
To achieve this, Taylor's school implemented a teaching and learning resource touted as "the building blocks to great writing". The Seven Steps to Writing Success program has shown to raise NAPLAN data by 1-3 levels within a single year.
The successful implementation of the program has helped the school reverse the trend of declining writing performance in our school's Year 5 top two band writing performance over recent years.
Seven Steps to Writing Success' publishing and content manager, Sarah Bakker, told The Educator that the program has seen a rise in the number of teachers from NSW attending Teacher Workshops and Coaches Courses this year due to increased levels of funding in NSW.
"Previously, the strongest participation rates have been in Queensland, but these have dropped off in recent years," she said.
Personal growth can drive success
Taylor said that in order to lead learning successfully as a teacher, it is vital that teachers and principals learn and grow themselves.
"Staff need to experience personal growth if they are to successfully design and implement it," he said.
"Staff must be able to point to evidence that demonstrates the impact of their personal and collective professional growth in the learning outcomes/growth of students."
Taylor added that current funding arrangements provide schools with "a significant opportunity" to impact teacher professional growth.
"For the biggest impact we must ensure that these increased funds are targeting the most important resources in schools – our teachers. These funds need to be supporting staff to function at full capacity," he said.
'Fantastic, engaging and empowering'
Bakker said Seven Steps supports the assertion that investing in teachers is the best way to improve student attainment levels as demonstrated by countries such as Finland where teacher training and support is paramount and as a result student outcomes are high.
She added that feedback from participants has shown that Seven Steps training provides teachers with the "tools and the confidence" to teach writing more effectively.
"This confidence and energy is then passed on to students in the classroom," she said.
One teacher, Toni Pittard from Maryborough Central State School, located in Queensland, commented on how the training helped them drive improved outcomes.
"The training was entertaining, interesting, relevant and motivating. It gave me a clear vision for where I want our school to go in regards to writing improvement," she said.
Another teacher, Claire Hayward, said the program was a "pivotal moment" in her career.
"It's fantastic and engaging, and really empowering. I think this is a true game changer and I can't wait to get started," Hayward said.