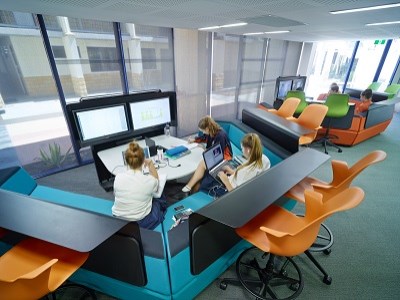 The way in which technology is introduced into a classroom can often mean the difference between calm and chaos.
However, which one of these your school experiences depends firstly on how well your infrastructure and blended learning culture has been set up, Peter West, head of e-learning at
St Stephens College
(SSC), told
The Educator.
"In order to make blended learning work, you first have to set up your infrastructure, otherwise it's just not going to work," West said.
While this process might seem obvious, West pointed out that some schools fail to do this and instead introduce the technology into the classroom first without having a well though-out and established IT network to support their plan.
"If you're doing blended learning, you should have started building your flexible learning spaces five years ago," he said.
"While you're building your online learning environment, you've also got to be building your spaces and thinking about your staffing."
SSC, which is celebrating its 20
th
anniversary this year, is recognised as a leader in technology enhanced education and has received multiple awards for its digital teaching and learning practices.
West said that the school was in a fortunate position as its headmaster, Jamie Dorrington, had been building flexible learning spaces to compliment an IT system that was ready to support them.
"We've now reached a point where we have five or six of these areas that are complimentary to a system of things that have been working really well for the last five years."
Don't forget the introverts
St Stephen's College collaborated with classroom furniture company Steelcase, to build its flexible learning spaces. West said the company has worked with educational thought-leader, Susan Cain, who has spoken extensively about the often overlooked
power and value of introverts
.
"Susan Cain has a great TED talk which points out that introverts aren't necessarily people who have no friends and don't like to talk. They're simply people who prefer to get energy by sitting down and thinking," he said.
West added that while introverts are traditionally quiet and reserved, their ability to collaborate should not be underestimated.
"Nearly half of our population are introverts, so designing spaces for introverts is very important. They need to sit, absorb and process information away from the hub," he said.
They're the people who will sit in a group, not offer anything but right at the end say: 'why don't we do it this way?'"
"We have to cater for both introverts and extroverts, but what I keep hearing out there is all about collaboration, over and over. Yes, collaboration is important but you need to think beyond that and cater for introverts."
Techs and teachers: a magic alliance
"At our school, our teachers and techs work very well together. We have three guys who have a high level of expertise, but they're also personable. In my opinion we have the perfect IT department," West explained.
"Our problems get solved. If your IT team doesn't work closely alongside its teachers, you're really going to be fighting an uphill battle."
Last year, SSC hosted
FlipCon Australia
, a national conference embracing flipped learning for emerging and established 'flipped educators'.
"We had educators who came here to see what we'd been doing. During the multiple tours by our staff we had some teachers saying: 'I have school envy' and 'how do you get a job here?' – which was encouraging for us," he said.
"Our school was one of the last in our area to implement the BYOD scheme, but we've built our blended learning culture and networks from the ground up, so when we introduced the laptops everything we needed was already in place."
West added that SSC has a style guide for its online learning environment – which includes tutoring services – in order to reduce cognitive load. He said there was "a consistent structure and approach" across every course so that they could be accessed easily by students and parents.
"We told the parents, if we're going to get you a laptop just so your child can go on to the Internet, search and take notes, we're wasting your money. The laptop is a window into the learning," he said.
"We said: 'let's build the learning environment and then provide the laptops'. That's been our process the whole way through.
"We've done things a bit back-to-front compared to most other schools but we're on the right track. We might be going slower, but we're getting there faster."