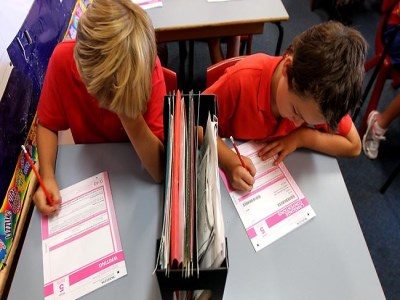 Dr Jae Major, a senior lecturer at Charles Sturt University's School of Teacher Education told
The Educator
how declining grades might be reversed.
"The way to make NAPLAN more useful and to enhance its potential for having a positive effect on outcomes is to change it from being a high stakes test that is administered on a single day," Major told
The Educator
.
"It must be a suite of standardised tests that are nationally normed, and that teachers can use early in the year, along with other assessment tools, to build a rich understanding of the progress and areas of need amongst their students."
Preliminary results from NAPLAN tests, released on Wednesday, revealed little sign of overall improvement since the standardised exams were introduced in 2008, something ACARA CEO,
Robert Randall
called a "cause for reflection".
However, Major has done some reflection and said the problem is not with teachers but with the test itself.
"In essence, a test cannot, on its own, improve student outcomes, A test, no matter how good it is, is only one source of information about progress and achievement," Major told
The Educator
.
"It is how the information it provides is used to inform teaching and learning that is the key to improving student outcomes."
Major said that, as it stands, NAPLAN is not used as a source of data to inform teachers' planning or practices, mostly because the results come too late to be of use. She added that teachers don't know how to effectively analyse or use the results to inform their teaching.
However, some senior educators have blamed new teachers' and claimed they lack the ability to teach key subjects to the standards required.
"We need to change the way we train our teachers. No one is being trained in how to respond to the NAPLAN results and that is why we are flat-lining," one senior educator who did not want to be named told
The Daily Telegraph
.
"Teachers have to know how to teach writing and reading and analyse the data. We cannot have people who scrape through high school getting into (teaching). At Sydney University you will need an ATAR of 90 but at others it can be 60 or below."
Major agreed that teachers' professional development is indeed an important factor in how the tests results are scrutinised, but cautioned against using such a "narrow focus" to measure such a complex type of testing.
Major suggested instead of the results being sent back to a central authority for analysis and reporting in league tables – as if they were definitive proof of the quality of the school and teachers – the results should be analysed to provide information about areas of strength and need back to schools and teachers.
"The missing component in the process is professional learning to help teachers understand standardised test results in depth, and how to use them along with the other assessment data they collect to develop targeted learning programs," Major said.
"The other problem with NAPLAN, like all standardised tests, is a narrow focus. Such tests have to provide the kind of data that can be reduced to statistical tables for easy comparison and reporting.
"Unfortunately, literacy and numeracy skills and – more importantly – their application in real life, cannot be neatly reduced to this kind of testing."