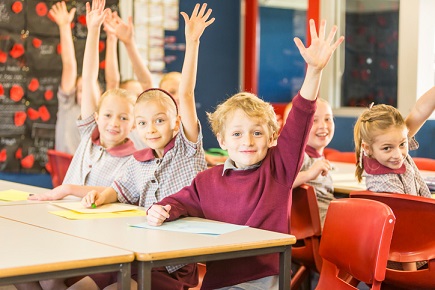 It's no secret that the schooling market is a cutthroat one. The reputation of certain school's brand effectiveness has grown within education marketing circles, prompting other schools to follow suit.
Making matters more complicated, private schools' marketing requirements are similar to corporate business, with invested stakeholders that need to be navigated.
Meanwhile, big advertising names are joining school councils and external non-educator advisers are having an increasing influence on the decisions that these schools make.
So with these trends in mind, how should principals set out to market their schools successfully in the competitive K-12 education market?
Mick Thorp is the executive creative director at communications company, Precinct. Thorp has over 20 years of experience working directly with Australia's top universities and some of Sydney's most elite private secondary schools.
'The biggest challenges are from within'
Thorp said there are multiple stakeholders who have a vested interest in, and often emotional connection to, their school brand including alumni and school councils.
"A high degree of sensitivity and negotiation needs to occur during any brand refresh in order to arrive at the most appropriate and mutually satisfying solution," he told
The Educator
.
"By respecting the heritage of the current brand with a nod to the future is often the core consideration and challenge of any school rebrand."
Thorp said the importance of a strong and consistent brand message is just as resonate for private schools as it is for corporate business.
"Every school can sell education, but customers are extremely unlikely to divulge in multiple brands; they'll pick, and stick, to just the one brand. Private schools have paying customers, just like any other business," he said.
However, Thorp pointed out that it is more lucrative because they have long-time customers.
"One student can be up to 13 years of business for the school, with the potential for more, with siblings, family friends, and so on," Thorp explained.
"The reason why a parent would choose one school over another comes down to brand. This encompasses reputation, recognition, offering, and competitive edge."
Therefore, says Thorp, the marketing requirements of a private school are similar to that of many corporates.
"Both have important branded collateral such as a websites, several key publications, an array of printed promotional materials, event and conference tactics, digital and press advertising, signage and livery [badging on uniforms] and even outdoor poster campaigns," he said.
"And both have invested and important stakeholders that need to be navigated; the parents, the school board, and influential external advisers."
Attitudes about school marketing are shifting
Thorp said it is only recently that elite private schools are beginning to realise that well-considered, strategically led, integrated marketing campaigns are effective.
"Having worked on and off with one of Sydney's top elite private schools, I have been able to witness this changing shift in attitudes," he said.
"Twelve years ago, one commissioned a creative agency to review and refresh its brand and visual identity, instigated by the Headmaster and the school's Director of Public Relations."
Thorp said that as more branded collateral rolled-out, the reputation of the school's brand effectiveness grew within education marketing circles, sparking a trend.
"The school also picked up numerous awards from ADAPE [renamed Education Plus], a networking association that boasted a few thousand national members consisting of admissions, alumni and community relations, fundraising, marketing and communications personnel," he said, adding that more schools with similar needs followed.
"This is a trend that is gaining considerable traction, as more schools tap into the potential of strategic marketing campaigns to help them play, and win, in this competitive field," he said.
'Growing influence from parents'
More recently, Thorp has worked with another of Sydney's elite private schools, which he said had acquired an "advertising name" on the school council and commissioned a total brand revamp.
"A strong brand, coupled with an integrated and memorable marketing campaign that cut through and a genuine point of difference raised the profile and awareness of the school considerably," he said.
"The presence of these non-educator advisers is increasing, more obviously within the schools on boards and councils, but also from external advisers."
Thorp said there is the growing influence from parents, some of whom are marketing professionals themselves.
"They're able to use their considerable experience and expertise in advising these schools, influencing attitude and appetite toward marketing itself to establish a true point of difference and to be positioned as an energised force in the changing environment of the school classroom and teaching methodologies."
Related stories:
Principals unprepared for 'competitive onslaught'
Can savvy school marketing soothe parental anxiety?