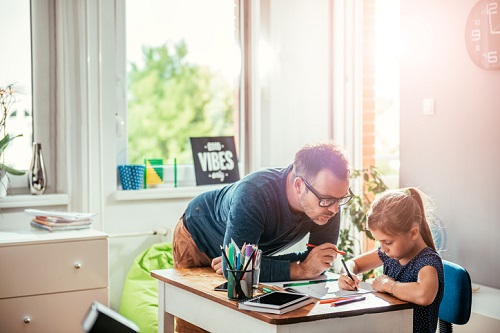 Last week, the World Health Organisation (WHO) formally declared the novel coronavirus (COVID-19) a pandemic – the terminology given to a virus that spreads easily between humans on a global scale.
Since the first COVID-19 death was reported on January 9, the virus has infected 181,000 people in 150 countries and killed more than 7,000 others.
Across Australia and the world, the crisis has triggered panic buying and warnings by some experts that as much as 70% of the human population could eventually become infected with the virus.
For children, the COVID-19 pandemic is especially terrifying. By default of their nature, young children are more likely to experience an amplified sense of fear, and as such, it falls to adults to put these fears into context and soothe their anxieties.
In an article published in The Conversation, Edith Cowan University lecturer Mandie Shean provided some tips on helping parents stay informed. However, educators can also use these suggestions when talking to their students.
Keeping students calm and informed
Shean said that to keep children from getting anxious, adults should present facts as well as strategies that can help to prevent catching the virus.
A recent report on the COVID-19 outbreak – which covered 72,314 cases – has found that infection cases of children are particularly low and no deaths have been reported among infected children aged nine and younger.
Teachers, however, should still remind their students to practice good hygiene, such as properly washing their hands and using facial tissues when coughing or sneezing.
False reports circulating on social media, as well as some news media, should also be discussed to clear any misunderstandings as hildren who are exposed to the non-stop news cycle discussing the virus' impact could become even more anxious.
Aside from being open to answering their questions about COVID-19, teachers should remember to use information only from trustworthy sources such as the WHO and health departments. At the same time, teachers should dispel any misinformation that students happen to bring up in conversation.
Last, but not the least, Shean said teachers should talk to students about their feelings to help keep their mental health in check. This same tip was offered by experts when advising educators on how to help students cope with bushfire-related trauma.
How COVID-19 is impacting the education sector
Schools in Sydney and Melbourne were among the first to issue guidelines for students who were at risk of becoming infected.
Recently, NSW became the first state to shut down some schools due to students and staff testing positive for COVID-19.
Federal Education Minister Dan Tehan said the government would provide a strict pathway to Chinese Year 11-12 students who have been caught up in the travel ban. While senior students are given exemptions, thousands of Chinese university students are still barred from entry.
With Chinese international students now having second thoughts on continuing their studies in Australia and schools calling for a more uniform response to the COVID-19 outbreak, the NSW Teachers Federation (NSWTF) says educators and parents should be wary of racial prejudice against students with Asian backgrounds.
The union suggested that principals should nominate an anti-racism contact officer and make use of their anti-racism resources to craft their own strategies. Last month, the Federal Government announced new funding to expand its counter intolerance program to combat this issue.
NSWTF president Angelo Gavrielatos said teachers should stay informed and remain calm in order to relay factual information to their students and the school community as a whole.
This means that educators should stay on top of current information being circulated on the Internet as well as the official advice from WHO, as well as federal and state governments across Australia.