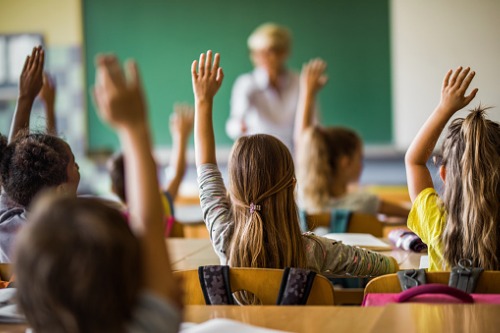 Some education departments recently announced that schools would adopt social distancing measures requiring them to cancel assemblies, excursions, travel, some events and conferences, in response to the coronavirus (COVID-19) outbreak.
The idea is simple. Make sure that students and staff are as insulated from the spread of the virus as possible.
So far, there have been more than 450 Australians infected with COVID-19, and five have died.
Department of Health guidelines on social distancing for schools include not sending sick children to school, sanitising hands at regular intervals when entering the school, avoiding queues and deferring activities that lead to mixing between classes and years.
However, questions have arisen as to how practical some of the recommended social distancing measures will be – particularly in crowded classrooms.
Professor Nigel McMillan, director of the infectious diseases program at Griffith University, told The Educator that social distancing is "not realistic" in a school setting given the close proximity of students to one another.
In terms of whether schools should close as a precaution, Professor McMillan said this should be the case "if sustained community infections start to occur in particular locations".
"You can see that NSW is starting to have this and so likely they will be first as this gets worse," he said.
Andrew Pierpoint, president of the Australian Secondary Principals' Association, said that some school areas are particularly vulnerable in terms of being potential hot spots for transmission, should a student fall ill with the virus.
"School leaders work tirelessly to ensure that distances between students is as suggested – canteen access, bus lines, crowded lunch areas, drama spaces, workshops and kitchens are often forgotten about," Pierpoint told The Educator.
"As educators, we want decisions about education to be made by educators. So, when matters of public health arise, we look to – and act on - the advice of the Chief Medical Officer. If that person thinks schools should remain open, then that is good enough for ASPA".
The NSW Secondary Principals' Council is also concerned about the implementation of some social distancing measures in schools.
"Whilst some measures are relatively simple to enact, such as cancelling assemblies and a range of excursions, others are more problematic," NSWSPC president, Craig Petersen told The Educator.
"For example, it is difficult to reschedule classes to reduce student traffic through corridors and it can also be difficult to maintain social distancing during inclement weather when students need to be inside".
To ensure students pay attention to the strict hygiene rules, some teachers are gamifying hygiene procedures and talking calmly to students about what needs to be done and why.
However, Petersen said some schools have inadequate supplies of liquid soap, hand sanitiser and paper towels.
"Principals are also concerned about what social distancing looks like on school buses or public transport," he said.
"We are concerned for our students and staff who have underlying health issues, or those who may be vulnerable because of their age".
When asked if he believes schools should be closed, Petersen said it is vital that systems heed the advice of the health authorities, adding that the premature closures of schools "could well have unforeseen consequences".
This would especially be the case given that we are not sure for how long the current situation will last," he said.
"Disruption to education is inevitable. We need to be mindful of reducing unnecessary disruption as much as possible, whilst maintaining the safety of our staff and students".
Social distancing 'impossible' for schools
Phil Seymour, president of the NSW Primary Principals' Association (NSWPPA), said the request for social distancing in primary schools, due to COVID-19 is "causing schools headaches".
"Primary schools with large enrolments are changing routines and having staggered lunch times and many schools are sectioning off their playgrounds to ensure there is some sort of distance between groups of students," Seymour told The Educator.
"But it is in the primary classrooms where this is almost impossible to arrange".
Seymour said that while keeping schools open supports families and emergency care workers and has been successful in limiting the spread of the virus, how long this can continue is uncertain.
"Carers are keeping students at home at a growing rate, with many schools reporting 20-25% absenteeism and teachers too are anxious about their health and that of their families," he said.
Parents 'worried and confused'
Jennifer Rickard, Australian Parents Council (APC) president, said parents are feeling "worried and confused" due to "mixed messages" being sent out by governments about the impact of the virus on education.
"It is hard to know who to listen to," Rickard told The Educator.
"Some of the arguments about keeping kids in schools seem to be more about keeping parents at work rather than keeping children safe, and while the government is saying keep schools open, independently lots of health professionals are saying schools should be closed".
Rickard said parents are also uncomfortable that teachers, many of whom are also parents, are "being asked to put themselves at risk".
"The impact of school closures on working parents will be huge, but the priority for parents will always be the wellbeing of their children," she said.
"Many parents, are already doing keeping their kids home if they can, especially those with children with risk factors like asthma".
Rickard said it now "seems inevitable" that schools will close and there will be an extended Easter break.
"So it would be better for parents if the decision is made sooner and advice given on how to manage 'social distancing' so they can make appropriate arrangements to cope with this unprecedented situation," she said.
"The current confusion is really adding to everyone's anxiety. What we need are clear messages and clear decisions".