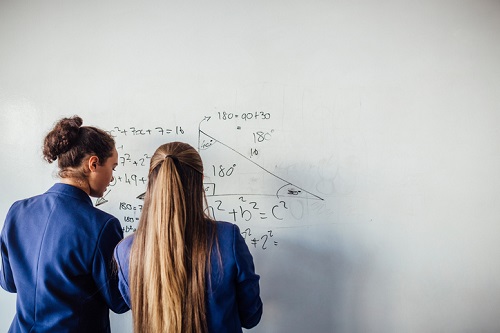 Last week, it was revealed that a new maths program is putting primary school students two months ahead of their peers.
A randomised trial of the Thinking Maths program, developed by the South Australian Department for Education, was conducted by the Australian Council for Educational Research (ACER) and commissioned by Evidence for Learning.
The program involves 30 hours of face-to-face professional learning over three school terms and is aimed at building teachers' capabilities to make maths learning deeper and more engaging.
Research from the Australian Council for Educational Research (ACER) shows that 17% of Year 7-10 maths classes in Australia are taught by an out-of-field teacher, with higher percentages of out-of-field teaching occurring in schools serving low socio-economic and regional and remote areas.
Matthew Deeble, director of Evidence for Learning, said the evaluation of the program found that whilst the program did have substantial impact on teachers' knowledge, this improvement was not fully translated into impact on students' outcomes.
"Thinking Maths is the first project to report from our Learning Impact Fund and is a great example of what Evidence for Learning is trying to achieve," Deeble told The Educator.
Deeble said the organisation selects programs with evidence that can be successfully run in schools to make a great improvement to student achievement.
It then pairs the program with an expert independent evaluator to measure improvement against a comparison or control group, as well as look at the background processes and factors.
"Finally, we work with the evaluator to produce a plain English report and a basic summary with key messages for practitioners," Deeble explained.
"We also provide a commentary with implications of the research and considerations for leaders and teachers."
Deeble said primary school principals should consider the program but that secondary school leaders should think about whether the structures in their school are appropriate for the strategies or wait for the program to be modified.
"We also suggested that both primary and secondary schools should carefully plan and monitor any implementation of Thinking Maths," he said.
"This kind of rigour in program assessment, and clear communication of findings and other considerations help strengthen local decision-making."
As school leaders strive to lift students' maths outcomes, many are asking why students' engagement and achievement in this important learning area has been sliding in recent years.
According to Deeble, there are many in-school and out of school factors that influence student outcomes, which makes it difficult to determine definitive factors contributing to all of the trends reported by NAPLAN and PISA.
"Different policies and different issues are at play in each state and territory and across the sectors," Deeble said.
"However, good teaching always matters and in many parts of Australia, there is a deficit of trained maths teachers, meaning many are teaching out of their field without appropriate training and support."
Dr Hilary Hollingsworth, principal research fellow at ACER, said building an evidence-base is "critical to identifying what really works in education".
"To understand 'what works' in education we need to collect evidence of impact," Dr Hollingsworth told The Educator.
"The randomised controlled trial design used in the Thinking Maths evaluation provides us with objective and robust evidence of the impact of the program. This evidence can now inform the decisions and actions of teachers, school leaders, and systems related to mathematics professional learning."
Dr Hollingsworths said the evaluation provides further evidence of the potential impact of teacher professional learning on student outcomes.
"School leaders can use this evidence to inform their planning, resourcing, and support of professional learning opportunities for the staff in their schools," she said.
"The evaluation has shown that well-structured and well-supported professional learning focussed on developing pedagogical content knowledge can assist teachers to improve their mathematics teaching, and that this can, in turn, lead to improved student learning outcomes."