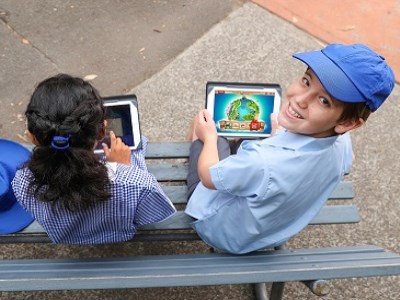 Online literacy education program LiteracyPlanet is running a campaign this term called LiteracyPlanet Legends, to celebrate students' achievements and highlight the links between physical activity, positive emotions and academic achievement.
LiteracyPlanet Legends invites teachers to nominate students for the opportunity to be recognised and win $10,000 in resources for their school. There are three categories for nomination - community, academic and sport.
LiteracyPlanet CEO, Adam McArthur, told The Educator that LiteracyPlanet Legends is about celebrating students having fun and doing something positive – whatever their interests are – in or outside of the classroom.
"It aims to celebrate those students who have passion and a positive outlook. These kids are making a difference," he said.
"I encourage principals to tell teachers and parents at their school about the campaign, and encourage them to nominate students. LiteracyPlanet Legends is designed to be inclusive so any child can be nominated."
McArthur added that the event is a great opportunity for teachers to celebrate their students' achievements, big and small, and every nomination gives the school an opportunity to receive a significant boost to its resources.
Each nominated student receives a LiteracyPlanet Legends pack and the winners of each category will win $10,000 in supplies for their school, plus a school visit from one of the celebrities involved in the campaign: sporting personalities Shane Crawford or Liz Ellis, or LiteracyPlanet ambassador, Georgie Gardner.
McArthur said that a 'legend' moment can be anything from kicking a goal in a football game to receiving an award at school, and the campaign is unearthing inspiring stories of students from all around Australia doing great things.
"Some of the 'legends' nominated so far include a girl in Year 5 who was the youngest person with Cerebral Palsy to climb to the top of Mount Kosciusko," he said.
"Another boy in Year 6 organised a stationery collection for the students from refugee backgrounds at his school, and a girl in Year 2 who makes and sells craft to raise money for the children's ward of her local hospital."
Teachers can nominate students on the organisation's website until Friday March 24, 2017.