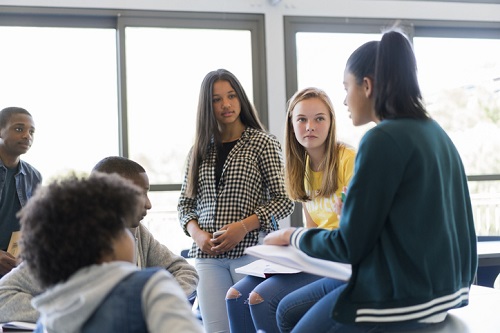 Students at an Adelaide high school have become stand-up comedians, laughter yogis, disco dancers, artists and master chefs all in the name of science.
It's part of a new learning program to explore the science of emotion while supporting student wellbeing at the Australian Science and Mathematics School (ASMS).
The ASMS aims to engage students with their learning by making science fun.
Over the past week, students have chosen from a range of activities including performing stand-up comedy, competing in a 'mystery box' cooking challenge, dancing in a silent disco, practising laughter yoga and expressing creativity through art.
Each student has also designed and attended a "Choose Your Own Excursion" including picnics in the Botanic Gardens, escaping adventure rooms, hiking outdoors, working with animals and dog sitting.
Students collected data pre- and post- each activity to measure the impact on their psychological health.
During the activities, students developed persuasive pieces to present to their classmates in the form of television advertisements demonstrating the science and wellbeing value of their activities.
Director of Professional Learning and Psychology Teacher at the ASMS, Karla Pobke, said students were exploring the science of emotion and how this impacts their psychological health.
"Students are learning about science in a way that is fun and engaging while gaining important life skills to support their emotional health and wellbeing," she said.
"Much of the popular dialogue around psychological health relates to mindfulness, diet and exercise.
"While these are key pillars, we have encouraged our students to extend their thinking and consider a broad range of activities that can build their emotional strength.
"Students have looked at what it means to express emotions, how they can be triggered and controlled and the role of facial expressions, body language, cognitive changes and physiological response.
"It has been fantastic to see our students respond with real interest and enthusiasm as they learn about the physiological, mental and social perspectives of their own personal health."
Principal of the Australian Science and Mathematics School Ms Jayne Heath said the program reflected the school's interdisciplinary approach to learning.
"We don't deliver traditional lessons in traditional subjects at the ASMS," she said.
"We offer students a range of extraordinary learning opportunities that you wouldn't normally experience in the classroom.
"In fact, you won't find traditional classrooms at the ASMS. We support our students to have a level of agency in their learning in open-plan classroom settings.
"Our approach is to support students to explore the big ideas and problems of the world by creating meaningful connections across science, maths and humanities.
"We believe this is the best way to prepare students for the jobs of the future.
"We are always looking for young people to join our school who are interested in science and mathematics and who want to have fun as they learn."
The ASMS caters for students in Years 10, 11 and 12 and is located at Flinders University in Bedford Park.