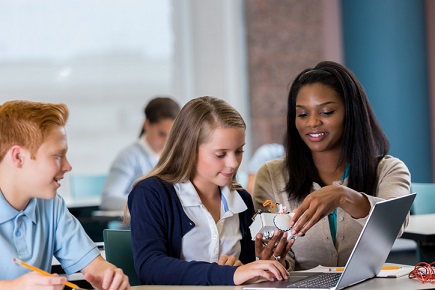 A new survey has found that Australia's independent schools compare favourably with Australian businesses when it comes to innovation – this despite operating amid heavy regulations and scrutiny and potential barriers to innovation.
The research was carried out by National Australia Bank (NAB), which measured innovation at a sample of Australia's independent schools.
Karen Spiller, National Chair of the Association of Heads of Independent Schools of Australia (AHISA) and principal of St Aidan's Anglican Girls' School, Queensland, welcomed the news.
"It's now official: Australia's independent schools are as innovative as Australian businesses," said Spiller.
Independent schools scored 67.8 on the NAB Innovation Index, slightly higher than the 67.6 figure for the general economy. A further finding from the study was that despite the fact that independent schools lack the ability to 'speed up' operations as in other industries, their capacity to 'do things differently' sees them gain an advantage.
"Some great innovations in education that we take for granted today emerged from the independent sector," Spiller added.
"Careers advisers, school counsellors, outdoor education programs, pastoral care programs, school chaplains, service learning, global student exchange and laptops in the classroom were first launched or modelled by independent schools."
According to Spiller, the nation's independent schools are going from strength to strength and are taking a leading role in positive education and innovation through the implementation of such things as contemporary learning spaces and the use of virtual reality in the classroom.
"The NAB survey confirms what we have been saying for some time," said Spiller. "If we are to improve education in Australia, governments and policy makers must recognise the capacity of schools to be innovative and entrepreneurial. Schools must be involved in shaping policy, not just implementing it."
As well as succeeding by doing things differently, the survey found that independent schools did things more cost-efficiently.
The study identified the aforementioned barriers to innovation in independent schools as a lack of time and resources to transform ideas into reality, along with lacking the necessary technology and government regulations getting in the way.