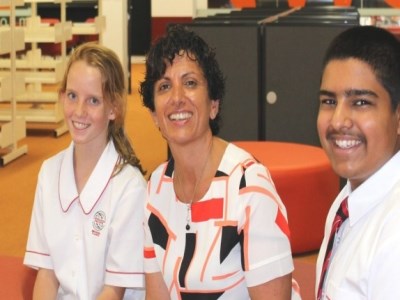 The vast majority of schools have a long and established history. This often means that a new principal carries the baton of their predecessor when it comes to continuing the school's strategic direction.
However, this principal has no predecessor.
This fact has allowed her to embark upon some unique and innovative programs that may very well inspire how other new schools develop their curriculum.
When
Kathy Melky
took the helm at
Cammeraygal High School
, located on the lower North Shore of Sydney, she set out to develop a culture that aligned with her school's values of respect, integrity, achievement and excellence.
However, along the way, this process has taken on a life of its own, leading to a curriculum largely driven by its students through 'social justice committees' and 'sustainability clubs'.
"Our school has a social justice committee which teaches students how to advocate for causes they think are critically important in the world, whether locally or globally," Melky told
The Educator
.
"Those sorts of programs alongside the curriculum initiatives are critical to creating an inclusive culture that is about being contemporary in our approach and creating opportunities to move learning away from the traditional model."
To apply, students must outline their ideas and initiatives about the given cause, something Melky called "quite rigorous, but which has led to a school of student advocates, passionate about the causes they care about.
"From the onset we have been a very strong advocate for social causes for the things that kids say are important to them," Melky said.
She said it had been "very exciting" to have had the opportunity to build the school's ethos from the ground up.
"The way we've gone about doing that is by basing our health and wellbeing programs around our four values. Those four things frame everything else that we do," Melky explained.
She said the "fantastic" support of her staff as well as from the
NSW Education Department
meant she faced no administrative obstacles in building the school's curriculum and culture "from the ground up".
"I've hit the ground running in a very unique situation as a new principal in a new school, but I've had fantastic support from my staff and from the department as I've set out to develop the school's culture," Melky told
The Educator
.
"The culture that I've set out to build has been one that allows students to have access to all of the opportunities that the curriculum offers and success, however students choose to define it.
"For some, success might mean academic achievement, while for others it may be social and emotional or in creativity and the performing arts."
While Melky acknowledged that she hadn't been in the role for very long, she said the current NSW Government had been "incredibly supportive" of principals and teachers.
"The relationship that exists between them is the most positive I've ever seen in my teaching career. Whatever issues that come up have been very well negotiated," she said, referring to the Learning Management Business Reform (LMBR) rollout as "a classic example".
"They're providing support for principals and staff to implement this but have stopped rolling it out to schools that are unable to facilitate it.
"We were initially meant to be an LMBR school but the government held off knowing that we had so many other things to deal with," she said.