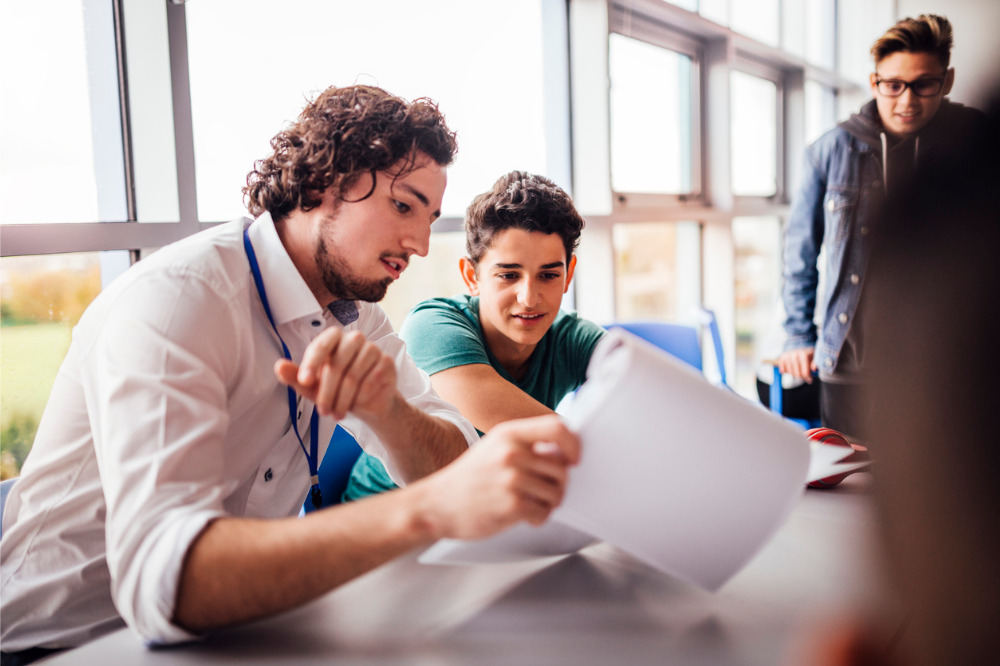 Labor has announced $77m in funding to train teachers how to discuss respectful relationships with their students in an age-appropriate way.
Studies show one in three Australian women (34.2%) have experienced physical and/or sexual violence perpetrated by a man since the age of 15, and nearly half of children aged between 10 to 18 years old are reluctant to seek help from adults if feeling unsafe.
To address this, the Federal Government announced in February that holistic and age-appropriate consent education will be taught in every Australian school from 2023.
The new funding announcement from Labor aims to improve the professional development of teachers in this important area.
Labor's education spokeswoman, Tanya Plibersek, said too many schools have been lacking proper consent education.
"There's nowhere near enough support to train teachers properly in this kind of education, and some schools don't have access to programs developed by experts," Plibersek said.
"Too many school students are missing out on education that can help keep them safe. It's also about teaching kids how to seek help if they feel unsafe."
Plibersek said age-appropriate respectful relationships education can also help promote equality between women and men and improve classroom behaviour.
'Schools will play a critical role'
The Australian Education Union (AEU) has welcomed Labor's commitment.
"The sad reality is that women and girls are still enduring harassment and sexual violence in Australia, whether it is in their homes, schools or workplaces," AEU federal president, Correna Haythorpe, said.
"The first step towards making these spaces safer for women and girls starts with educating students about consent early."
Haythorpe said the conversation around consent education led in the past year by Chanel Contos has shone a light on the critical role schools play in preventing sexual harassment and violence in the community.
"Schools should be safe places for students to seek information and assistance and it's crucial that we have a Federal Government committed to ensuring that is the case," Haythorpe said.
"The AEU is calling on all parties to follow suit and support teachers to deliver evidence-based and age-appropriate consent and respectful relationships education."
'Access to this information is a child's human right'
Qualified primary school teacher and now acclaimed author Naomi Hunter is a child sex abuse survivor whose children's books help young people identify what abuse is and empowers them to speak up.
Hunter said it is a child's human right to have access to sexual consent education that goes "right to the core of the problem – awareness and empowerment".
"And this education doesn't just have to start when children become teenagers – it can start so young and be woven throughout their lives so they can have a beautiful consistent message about how to trust their hearts and minds, and feel empowered to speak up," Hunter told The Educator.
Hunter said most children do not speak up when abuse is happening because it is most often perpetrated by people who the child knows and cares about.
"These are people who they've built a trusted relationship with, so it's very hard for them to deny their own truth and say that it doesn't feel right when the adult who they love is saying what's happening is fine," she said.
"How do they know to listen to their heart and validate themselves if they're not being taught that this behaviour is wrong? If they don't know it's wrong, they can't talk to someone about it".
'A solid commitment and response'
National Catholic education executive director Jacinta Collins said Labor's plan to ensure quality, age-appropriate respect education programs will support a consistent approach across all sectors and states.
"We've seen too many examples where young people do not feel safe and have not been appropriately supported to seek help or identify harmful behaviours," Collins said.
"Age-appropriate education to help model healthy relationships, prevent harmful behaviours, and to teach young people about domestic violence, consent, sexual harassment and assault needs to be supported through evidenced-based approaches, professional learning for staff, education for families, and a network of specialist services to support school communities."
Collins said collaboration across the Catholic, government and independent school sectors in NSW demonstrates a "solid commitment and response" to preventing violence and supporting young people to learn the skills needed to establish respectful relationships and seek help if they are unsafe.
"This response includes recognising the important role parents and families play, and critically, the voice of children and young people to inform effective policies and programs," she said.
"The safety of our children and young people is everyone's responsibility and we welcome Labor's commitment to support school communities and systems across Australia in this important work."