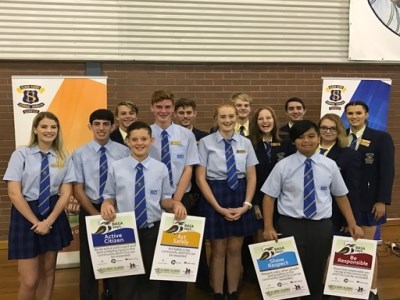 Last year, three principals embarked on an inspiring initiative that would involve the entire Kurri Kurri Learning Community (KKLC), located in the NSW Hunter region.
These pioneers were Pelaw Main Public School principal, Merilyn Burton, Kurri Kurri High School deputy principal, Alan Hope and Weston Public School assistant principal, Kristy Sutton.
The initiative was called Community Positive Behaviour for Learning (PBL), which aimed to support, encourage and reward young people to show positive behaviour across the Kurri Kurri community.
The initial steps in this process involved establishing a PBL mascot and core values. It was decided for the connection within the local community that a Kookaburra would be selected and that the core values from all schools should be considered along with an active community value.
Student leaders from all schools in the area then assisted in the process of establishing indicators for these values before conducting a community consultation survey to ask people what they thought positive behaviour was.
As a result, BASA was created to represent the following values: Be Responsible, Act Safely, Show Respect, Active Citizenship (BASA).
"The current programs have been extremely successful," Burton told The Educator.
"The local learning community and the close working relationship between the schools have meant that expanding the current practice to have a positive impact within the local community was a logical and easy step."
Community PBL has been trialled at three schools through effective community consultation by Kurri Kurri High School's Chief Learning Officer, Heather Sutherland.
Burton said that since this trial at the start of Term 1, 2017, students across the KKLC have already received BASAs recognising their positive behaviour.
"This has had a positive impact on students' connection with their school, as the core school values from all of the schools are now being recognised within the community," Burton said.
"This is ultimately strengthening school and community partnerships."
Burton said the long-term plan for Community PBL is to expand into more organisations and businesses within Kurri Kurri's unique local community.
The KKLC is currently seeking businesses and organisations to become involved with the initiative by displaying signs, handing out BASAs, or donating money or vouchers for rewards.
"To expand our message of positivity we are combing with all schools within the KKLC for a positive psychology-focused school development day in Term 2," she said.
"We acknowledge that this is a long-term project to support the educational and well-being needs of our students. We would like to see this program become sustainable within our community."
Burton said that as a school leader, her recommendation to other principals is to ensure the consistency of language and expectations through the teaching of positive behaviour aligning with core school values.
"Teaching behaviour and core values of PBL is an essential element of transforming school culture and the successful implementation of PBL within a school.
And Burton's final piece of advice to school principals?
"Keep focusing on the positive!"