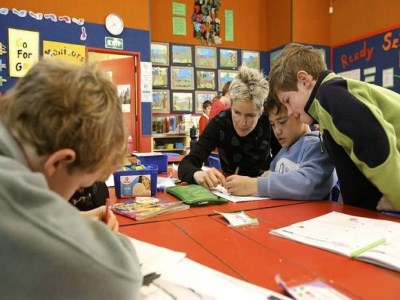 A leaked document from a New Zealand Government consultation forum in May shows sweeping changes to the country's education system are being considered.
The changes could see schools given the power to decide their own opening hours and allowing one principal to head several schools.
Other proposals included schools owning and operating early childhood centres as well as out of school care services so school boards could be "more responsive to their communities".
The New Zealand Government's proposals were part of a leaked document which had been handed to unions, principals and education sector representatives at a consultation forum in May, exploring how to improve student achievement.
Groups representing school principals said the proposals were worthy of further investigation.
Sandy Pasley, the New Zealand Secondary Principals Association president, told
Radio NZ
they would give schools more flexibility.
She said allowing schools to have more control over their opening hours could help with traffic congestion, but doubted many secondary schools would want to share a principal.
"Certainly in schools the size that they are in Auckland, I think it would be very difficult.
"I can see the relevance for country areas where you've got small schools and you wouldn't like each of those small individual schools necessarily to be reinventing the wheel with all the administration."
Denise Torrey, Principals Federation president, said more consultation is needed before such big changes are made.
"We're not saying that some of these ideas don't have merit, but they need a little bit of talking about."
How would such changes work here?
Australian schools already provide outside school hours care programs to provide assistance to families requiring day care for their children. The benefits are clear: working parents know where their kids are – and that they're being looked after.
However, in a
letter
to
The Sunshine Coast Daily
published last month, one Caloundra resident suggested all teachers work 9am-5pm to resolve the problem in one fell swoop.
The change, she said, would prevent children from "wandering the streets, being put in after care or being left home alone".
"If our teachers were working 9am-5pm, children would be home with families and not wandering the streets or put in after care or, sadly, home alone," the letter writer said.
"They should also have four weeks holiday, not 12, so parents don't have to stress out where their kids are going to be minded."