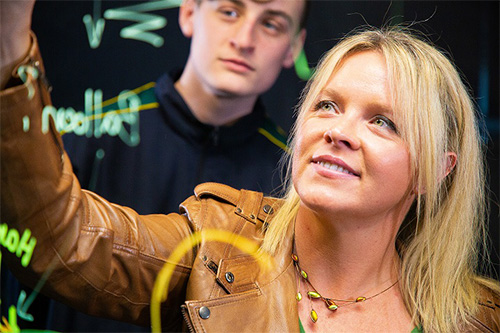 Reports have revealed a long-term decline in Year 12 enrolments in science and challenging maths subjects, begging the question: where is the system going wrong?
While overall maths enrolments are steady at 72%, this is because students are choosing to enrol in lower level courses. Intermediate and advanced maths declined from 54% to 36% between 1992 and 2012. Science enrolments, meanwhile, declined from 55% in 2002 to 51% in 2013.
However, some educators aren't content to watch this trend continue and have been actively changing the way young people think about these subjects. What's more, the inspiration they're incubating is having a transformative impact on student learning outcomes in these key areas.
Yesterday, the 2019 recipients of the Prime Minister's Prizes for Science were announced, celebrating 20 years since the accolade was launched.
The Prizes are Australia's most prestigious awards for outstanding achievements in scientific research and research-based innovation, including science, mathematics and technology teaching.
The $750,000 annual award gives out five prizes for science and innovation (the Science Prizes) and two for science, mathematics or technology teaching (the Science Teaching Prizes).
'You showed us that science is beautiful'
One of the winners, Dr Samantha Moyle from Brighton Secondary School in South Australia, is a recognised pioneer in the space of interactive and creative learning.
In an interview with The Educator, Dr Moyle said the best outcome from her teaching approach has been "inspiring a love of science" in her students.
"I love hearing the 'ooohs' and 'ahhhs' when we conduct a dynamic experiment or demonstration, like the rainbow fire Jack O lantern, which takes a standard 'flame colour' experiment to the next level and gives it context in the student's everyday lives," Dr Moyle told The Educator.
"These types of hands-on experiences encourage the students to take what they have learnt at school into the home environment and share it with their families and friends generating a ripple effect of scientific knowledge that spreads throughout the community."
Dr Moyle said this also translates to the pride that the students have developed in their work.
"They see the improvement in their scientific analysis and report writing skills, and because of this they challenge themselves to go deeper and push further. I love seeing this confidence in them, because scientific report writing is not easy," Dr Moyle said.
"I have Year 10 students that are producing work you would be proud to see from a first-year university student."
Dr Moyle said one of her Year 10 students recently produced a 50-page folio for the school's Forensics unit, outlining her group's scientific and mathematical findings.
"She worked incredibly hard on this and is justifiably proud of what she has produced," she said.
Dr Moyle added that inspiring a love of science has seen many of her students continue into science and/or engineering-related tertiary studies.
"I am incredibly proud of their successes and thrilled that I might have had a small amount of input into encouraging them to pursue these paths," she said.
"I was recently told by one of these past students: 'you showed us that science is beautiful,' which is a lovely compliment."
Celebrating every letter of STEM
Australia's Chief Scientist, Dr Alan Finkel, applauded the breadth of scientific endeavour recognised in this year's Prizes, celebrating achievements across the full spectrum of Science, Technology, Engineering and Mathematics (STEM).
"The S in STEM is science – but it's often impossible to disentangle new scientific breakthroughs from the T, E and M that make them possible," Dr Finkel said.
"Where would our new anti-cancer drugs be, without the rigorous scientific trials to prove their effectiveness? How do you program self-adapting headphones to improve your hearing, without technology and engineering to make them tangible? Or the complex mathematics of group theory, central to secure banking, digital signatures and secure internet communication."
Dr Finkel said the prizes also recognised some of Australia's biggest advocates for the STEM subjects: school science teachers.
"It's more important than ever that we ensure our children are STEM literate: that they have the tools to navigate tomorrow's world with confidence and curiosity," Dr Finkel said.
"And in this endeavour, there's no one as deserving of praise as our exceptional primary and secondary school teachers. Their passion inspires their students in turn to challenge themselves, follow their interests, and engage in the STEM subjects."
This year's winners
Prime Minister's Prize for Science:
Emeritus Professor Cheryl Praeger AM, The University of Western Australia

Prime Minister's Prize for Innovation:
Professor David Huang, Professor Andrew Roberts, Professor Guillaume Lessene and Associate Professor Peter Czabotar, Walter & Eliza Hall Institute of Medical Research

Frank Fenner Prize for Life Scientist of the Year:
Associate Professor Laura Mackay, The University of Melbourne

Malcolm McIntosh Prize for Physical Scientist of the Year:
Associate Professor Elizabeth New, The University of Sydney

Prize for New Innovators
Dr Luke Campbell, Nura Operations Pty Ltd, Victoria

Prime Minister's Prize for Excellence in Science Teaching in Primary Schools:
Mrs Sarah Finney, Stirling East Primary School, South Australia
Prime Minister's Prize for Excellence in Science Teaching in Secondary Schools:
Dr Samantha Moyle, Brighton Secondary School, South Australia