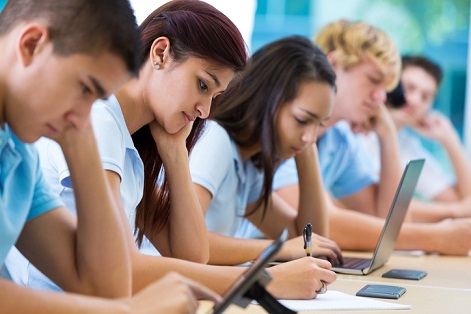 NSW Education Minister Rob Stokes has announced major changes to the minimum standard of the Higher School Certificate.
The new changes mean that a Year 9 student sitting the exam in or after 2020 will need to meet a minimum standard of literacy and numeracy to receive their HSC.
All HSC students will now meet the HSC minimum standard through short online tests in reading, writing and numeracy. Tests can be taken in Years 10, 11 or 12, in a process similar to obtaining the NSW Learner Drivers Licence.
Stokes said he recognised the link of this standard to Year 9 NAPLAN tests placed "unnecessary pressure" on Year 9 students.
"NAPLAN should be a simple check-up, not a major operation. It is one tool used to assess educational progress – not a high stakes test," Stokes said in a statement today.
NSW Education Standards Authority CEO, David de Carvalho, supports the change.
"The NSW Government's decision has removed a complicating aspect of the policy that was causing concern about the purpose of NAPLAN," de Carvalho said.
The Independent Education Union of Australia (IEUA) NSW/ACT branch said it "cautiously welcomed" the announcement.
IEUA NSW/ACT branch secretary, John Quessy, said the union wants to find out more about the online testing regime required for students to be admitted to the HSC.
"Acknowledging that NAPLAN is a diagnostic test with the purpose of helping teachers assist and guide students' learning is the right approach," Quessy said.
"However, additional online tests could cause more stress to students and more workload for teachers and distract from HSC studies.
Quessy said the IEUA is awaiting more information from the department about what the tests will look like.
"What will be the benchmark used for these tests, how are they administered? At this stage we have concerns that the relevance and integrity of the HSC as a school exit credential is not compromised," Quessy said.
David Roy, senior lecturer at Newcastle University, said previous NSW Education Minister Adrian Piccoli had created "barriers" to student success by linking NAPLAN to HSC entry requirements.
"By linking it to HSC entry requirements, former NSW Minister for Education Adrian Piccoli took a useful tool and changed its whole purpose to become a barrier to student success," Roy told The Educator.
"By no longer making this requirement, students form low SES, ATSI backgrounds, disability or who have ESL will have some of the potential barriers to success removed."
Roy said Rob Stokes "seems to be an Education Minister who listens and is willing to change if there is clear evidence for best practice".
"Having two intelligent leaders in NSW education who can work for all – Minister Rob Stokes and Shadow Minister Jihad Dib – gives hope. Collaborative politics is possible when children's needs are concerned," Roy said.
"Rob Stokes decision today demonstrates a politician who listens to those actually involved in education, students, parents, teachers and academics; and trusts schools to do their jobs."

Related stories:
Student career aspirations do not meet workforce needs
Are HSC league tables doing more harm than good?
HSC 2017: 'Remarkable' results announced