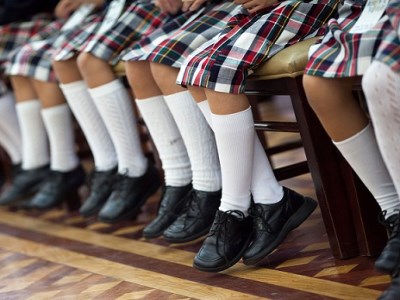 WA schools have changed the dress code for public school girls following a handwritten letter to the state's education minister from an 11-year-old, The West Australian reported.
As a result, every public school in the state will now allow girls to wear shorts and pants, rather than limiting them to only dresses, skirts or "skorts".
The handwritten letter, from Wembley schoolgirl, Sofia Myhre, to WA Education Minister, Sue Ellery, said the existing dress code was "unfair".
"I think it's really unfair that my brothers have been allowed to wear shorts and all through primary school I haven't been allowed to except when I have sport," the Wembley schoolgirl wrote.
"The dresses are even worse but at least you don't have to wear them. I really love kicking the footy, netball and doing handstands at recess and lunch. It is annoying doing these things in a skirt."
The Department has been asked by the Minister to amend its Dress Codes for Students Policy, which will see individual school councils or boards continue to set their own dress codes but allow girls the option of wearing shorts or pants.
"An 11-year-old girl should be able to wear shorts to school. In 2017, girls should be able to wear clothes that don't restrict their ability to participate in physical activity at school," Ellery said.
However, the change does not affect private schools, which often require girls to wear dresses.
Sofia's mother, Krystina Myhre, said the exercise had taught her daughter that if you believe something is wrong you should try to change it.
Ms Myhre said her daughter's school principal initially declined requests to let female students have a choice when it came to wearing a skirt or shorts.
The rule was later changed to allow female students to wear culottes, after parents complained to the school board. It proved an unpopular solution and Mrs Myhre then wrote to Acting WA Commissioner for Equal Opportunity, Dr John Byrne.
WA Primary Principals Association (WAPPA) president, Ian Anderson, welcomed the changes to the state's school uniform policy.
"We would see this as a common sense decision which schools will be able to work with," Anderson told The Educator.
"Many schools in Western Australia have already undertaken such changes and it is important that all students are able to engage in the full range of activities primary students do whilst also wearing a 'school uniform'."
The WA Department of Education have been contacted for comment.