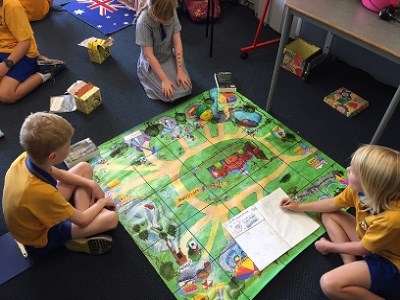 The adoption of technology in classrooms, while on the rise, has yet to improve the nation's Science Technology Engineering and Mathematics (STEM) education performance on the global stage.
Seeking to change this, Queensland's Premier, Annastacia Palaszczuk recently announced the '
advancing education
' plan to fast-track digital technology subjects such as coding and robotics into the state's curriculum.
Milton State School
– which was recently featured in
The Educator's
Innovative Schools 2015
for the creative use of technology in its curriculum – is well aware of the educational power such a curriculum wields in the classroom.
Angela Waugh
, the school's head of e-learning, told
The Educator
that the integration of coding, robotics and 3D printing into her school's curriculum was achieved smoothly thanks to a 'digital pedagogy coach'.
"We have supported our teachers by employing a digital pedagogy coach that works with them to devise fun and engaging ways to incorporate coding and robotics into the classrooms, and continue to look for ways that we can push the boundaries even further," she said.
"The coach works with our curriculum team when units of work are developed to ensure that there is a seamless and meaningful inclusion of digital pedagogy."
Waugh said the QLD government's 'advancing education' plan will enhance the existing work the state's schools are doing in the form of robotics and coding.
"Up until recently only a minority of schools were actively implementing robotics and coding into their classrooms, or providing opportunities to students as an outside of school activity," Waugh said.
"I believe that the 'advancing education' plan will support schools in their development of staff skill set and provide further opportunities to connect with outside industries and universities to develop purposeful and engaging activities relevant to the real world."
However, Waugh said that "necessary infrastructure and resourcing" is needed to support the implementation.
"We need to ensure that teachers not only have the appropriate skills but have the appropriate tools in order to make this successful for enhancing and improving student learning outcomes," she said.
Waugh said the school's mission to infuse coding and robotics into 'flipped classrooms' and blended learning was inspired by how well its students were adapting to the changing educational landscape.
"The initial catalyst for us was seeing how much our students have changed. The learning and the information is still there, but our students have changed and we can see how important it is that our teachers need to change along with that," Waugh said.
"All teachers experience the same major issue; we are time poor with a crowded curriculum.
"By introducing coding and robotics into our classes and applying the flipped classroom methodology in some areas we have seen our students more engaged, and our teachers having more time to engage in individual student conferencing."
Waugh said that with the new robotics and coding curriculum, the state's students will be better prepared for the world that awaits them when they leave the school gates.
"As a society we are continually changing, and as educators it is imperative that we recognise that we are preparing our students for jobs that do not exist yet, and to give them the skills to work with technology that has not been thought of yet," Waugh said.
"To do this we need to move away from teaching students how to use devices or technology rather how to create it. If you look to the future of robotics across the globe, we need to prepare our students with the skills and attributes that a robot cannot perform, such as creativity, innovation, collaboration, team work and design.
"After all, the effectiveness of a robotic device is only as good as the person creating it."