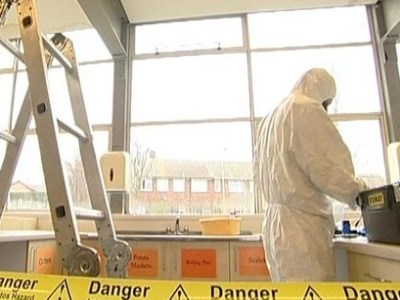 Nearly all public schools in one state have potentially dangerous asbestos, according to government audits.
Only 3% of state schools in Victoria were found to be asbestos-free at the beginning of last year, according to audits obtained by the Opposition through Freedom of Information early last year.
The audit found that just 39 of 1,440 audited schools were asbestos-free.
Despite the finding, the Victorian Government said it was confident it would meet its election promise of ridding the dangerous substance from all schools by 2020.
The Andrews government allocated $42m to demolish or replace asbestos-riddled portables in last year's Budget. It has almost finished auditing all schools in the state and will remove the material during works to modernise 67 schools.
Opposition education spokesman, Nick Wakeling, said the state government had "no clear plan" on how it would fulfil this promise.
However, according to Victoria's Education Minister, James Merlino, neither does the Opposition.
Merlino said the Opposition set aside "a measly $7.5 million" to remove asbestos in schools in its last budget, and called the efforts "pathetic".
"I acknowledge there is no quick fix to this problem, but we won't stick our heads in the sand like the former government, and are working hard towards our goal of asbestos free schools," Merlino said.
The issue of asbestos in schools has also caused concerns in other states.
In Queensland, a state MP joined parents in calling for the state's government to
urgently remove
deadly asbestos from several schools in his electorate.
Gaven MP, Sid Cramp, said four schools in his electorate were known to contain asbestos building materials, adding that local parents had confronted him over it.
In NSW, there are concerns that hundreds of schools may be contaminated with deadly asbestos, with a government expert warning that authorities are using "band-aid measures" to clean up the problem.
Worried parents said they feared for their children's safety because of repeated exposure to fibro asbestos sheeting used as landfill in school ovals and playgrounds which in some cases has been cleaned up multiple times.
Chief executive of the Commonwealth Asbestos Safety and Eradication Agency, Peter Tighe, told the ABC that the NSW Government should reconsider its approach to the issue.
"To an extent it's tokenism. I mean it's a band-aid treatment for something which might be a greater problem," Tighe said.
"If there's smoke, there's fire. If you've got an indication that there's widespread contamination at a surface level, then surely what it needs is further investigation to ensure that there isn't an ongoing risk to the public, people playing sport or school children."