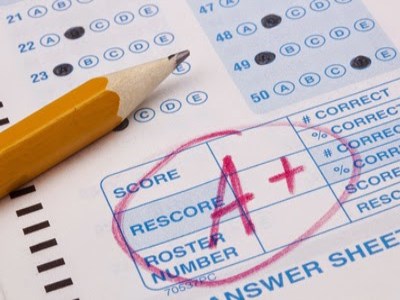 Today, more than one million students will sit the National Assessment Program Literacy and Numeracy (NAPLAN) exams.
This year's test, which runs until Thursday, will be the final one to involve pen and paper.
A key focus of this year's exams will be on students' performance in the discipline of numeracy, following reports of a
downward trend
in this area.
NAPLAN data has shown the number of HSC students not taking part in maths tripled from 5% in 2003 to more than 15% in 2014, revealing a sharp decline in what is considered a key area of Science, Technology, Engineering and Mathematics (STEM) education.
However, an announcement by the NSW Government yesterday promised to ensure the state's teachers would be equipped to lift student engagement and performance in this area.
Speaking at Brookvale Public School, located on Sydney's northern beaches, NSW Premier Mike Baird and Education Minister,
Adrian Piccoli
, announced a plan which would see the NSW Board of Studies partner with the
University of Technology Sydney
(UTS), Macquarie University and the University of Sydney in an effort to bring hundreds of specialist teachers into the state's classrooms.
Premier Baird said that given the direction of the 21
st
Century economy, student performance in science and maths was crucial, as many future jobs would require these skills.
"Technology is going to grow at seven times the traditional economy over the next 15 years," he said.
"These kids are right at the forefront of where the economy is going and the skills going in today is going to make a difference tomorrow."
Piccoli said the nation had "lost its way" in mathematics, with the latest round of PISA tests showing Australia lagging behind Vietnam, Poland and Estonia.
"I think we have lost our way a bit in Australia with mathematics. We need to develop a love of these subjects in primary schools so they can go onto higher level maths on high school and university," Piccoli said.
In last year's test, some parents complained that some of the exam's questions were too difficult for younger students – a point ACARA, which has administered NAPLAN since 2008, has since taken on board.
The old model of a single prompt across all age brackets has now been replaced with one for Year 3 and 5 students, and a separate one for Year 7 and 9 students
Recognising the pressure students generally feel in the lead-up to the exams, NAPLAN's official website recommends parents treat the tests as any other on the school calendar.
"NAPLAN tests are constructed to give students an opportunity to demonstrate skills they have learned over time through the school curriculum, and NAPLAN test days should be treated as just another routine event on the school calendar," the website reads.