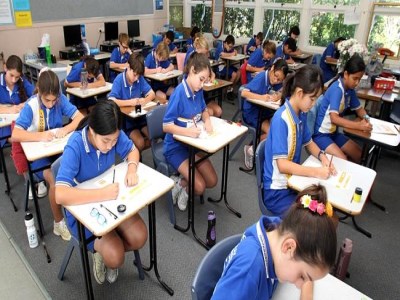 Coming off the back of lacklustre results in TIMSS and PISA, the latest NAPLAN results have sparked further debate about Australia's academic progress. The report, which was flagged in August, details the achievements of students in Years 3, 5, 7 and 9 in examinations held across Australia.
Key points included:
The writing skills of Year 9s are worse than in 2011
Indigenous education has shown signs of improvement.
Federal Education Minister,
Simon Birmingham
, told
ABC
that politicians needed to work together to address the standards.
"Our performance as a country is not meeting the high standards we should expect with the growth in investment we have had in our schools in recent years," Senator Birmingham said.
"In fact in some areas we have seen, at best, a plateauing and elsewhere measures are showing a decline in our performance."
Senator Birmingham said the report showed sector reform was required, including a focus on evidence-based strategies to boost student results.
Opposition education spokeswoman Tanya Plibersek said the gaps between advantaged and disadvantaged students were unacceptable.
"All [disadvantaged students] are generally achieving lower than their peers from more advantaged families or more advantaged communities."
However, one unexpected result was the improvement seen in learning outcomes for Indigenous students.
National Chair of the Association of Heads of Independent Schools of Australia (AHISA), Karen Spiller, said these results were encouraging.
"The 2016 NAPLAN results show overall gains for Indigenous students in Year 3 and Year 5 reading and numeracy," said Spiller, who is also Principal of St Aidan's Anglican Girls' School in Brisbane.
"But Australia still has a long way to go to close the achievement gap, especially for students in remote and very remote regions."
Spiller said that, while the gains in early learning were welcome, the 2016 Report indicated that if Indigenous students were to build successfully on those gains then the transition from primary to secondary school and a continued focus on writing skills through to Year 9 also deserves more attention from policy makers.
"Out-of-country solutions for Indigenous students, such as residential scholarships to study in metropolitan and regional boarding schools, are proving very successful," said Spiller.
Innovative initiatives undertaken by independent schools are described in AHISA's submissions to the House of Representatives Indigenous Affairs Committee's inquiry into educational opportunities for Aboriginal and Torres Strait Islander students.
"We are hoping some of these innovative programs will be picked up and reflected in the Inquiry's recommendations," said Spiller. "The NAPLAN 2016 report is encouraging, but there is no room for complacency in national efforts to close the achievement gap."