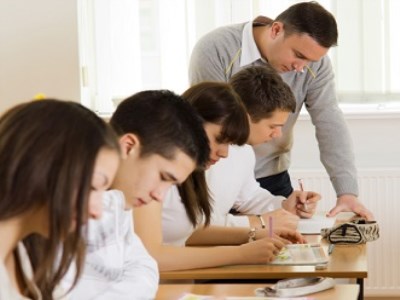 A new report by US office supplies retailer, OfficeMax, highlights the positive impact that teachers are having on the lives of their current, and former, students.
Now in its seventh year, the 2017 A Day Made Better (ADMB) program, run by OfficeMax, calls upon students past and present, parents, family, friends, colleagues and principals to nominate an influential educator for the ADMB Teaching Award.
OfficeMax's director of sales and marketing, Paul Munkley, told The Educator that of the 1,000 people surveyed, 72% said they had a teacher who had a strong impact on their life while 78% said they've had a teacher who inspired them in a positive way.
"If you were to scale that nationally, you're talking about 15 million Australians. While the other aspects of the program are great, it's this perspective on the statistics that really grabs me."
Munkley said that more than 20,000 nominations have been received for this year's awards so far – and he hopes the final number will ultimately exceed last year's record of 39,000.
"We expect the nominations to grow over the remaining three weeks of the nomination period because there will be some teachers who are nominated more than once," he said.
"We want to remind people that just because a teacher has been nominated before, they can still be nominated again."
In an interview with The Educator last year, Munkley said that many of the nominations received were from principals, adding that it was surprising how often they were highlighted by the teachers they look after.

"Principals put an awful lot of time and effort into making sure their staff are recognised, and this program makes that easier for them to do this," he said.

"I also think it's a great way for principals to drive publicity about the great things they're doing in their schools. There aren't that many programs out there helping principals toot their horns."

He pointed out that generally, principals have to do this recognition themselves, but this program allows them to highlight the work of their school and drive community interest in how they're helping their staff and students.

"Being six years in, we have many past winners who can help parents with concerns about transitioning their kids from primary to secondary school, as well as provide academic support," he said.
New year, new inroads into education
This year, OfficeMax is expanding its reach into K-12 education with a project focused on enhancing awareness about Indigenous heritage.
Munkley said the company has been working with Jasmin Herro, who is renowned in Indigenous business circles.
"In April, we launched a business supplies product range with Jasmin where proceeds from the sales of those products went to the Teter Mek foundation, which Herro operates," he explained.
"Teter Mek is the Indigenous word for 'footprint', and forms part of the title of Herro's new book, 'Teter Mek and the mystery of Pearl Shell Island'."
Munkley said advanced copies of Herro's book were distributed in April, but the novel will be available for public sale in July.
Herro is currently developing lesson plans for teachers that will provide them with new resources to boost Indigenous education.
OfficeMax is currently speaking with schools in both the public and private sector about how they can incorporate the resources into their curriculum.
"Later in the year, we're hoping to have discussions with local governments about how they can support this process and boost involvement in the Teter Mek Foundation," he said.
"What we're ultimately trying to do with this project is generate an income stream to support the foundation which allows it to provide more resources to teachers and students around Australia."