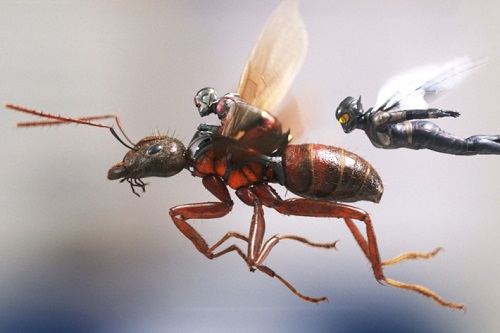 The growing importance of Science, Technology, Engineering and Mathematics (STEM) education has prompted schools to rethink the way they're preparing young people for the future.
Greater urgency has been given to this important endeavour as reports reveal a lack of STEM skills and student engagement across the four subject areas. A report produced for the World Economic Forum found that Australian students rank last in technology-related skills and interest in technical jobs.
The recently published 'Australia 2030: Prosperity Through Innovation Plan' also revealed a downward trend of PISA scores in science and maths, suggesting a lack of STEM capability among Australian students.
To help turn this around, a leading technology company and comic giant have announced that they are joining forces to inspire greater student uptake in STEM education.
The initiative, by Dell and Marvel, is focused on computer science and computational thinking and coincides with the newly released 'Ant-Man and The Wasp' – a big-budget film on which the two companies collaborated.
Ben Jackson, general manager ANZ, Consumer and Small Business at Dell, said storytelling has been proven to play a powerful role when it comes to inspiring young people – and the latest initiative is no exception.
"This partnership brings the science and technologies behind the movie to life, in an interesting and interactive way," Jackson told The Educator.
Jackson added that the Marvel University program – launched by Dell and Marvel – engages children by explaining the science behind their favourite Marvel superheroes and movies.
"Ant-Man and The Wasp allows us to teach kids about interesting topics like ants, wasps and nanotechnology in a really fun and engaging program," he said.
Based on Dell's 2030 research findings, computer science and computational thinking will be a needed skill in the workplace. However, Dell sees gaps in supply to meet this demand.
"Technology is reshaping our lives. By 2030 emerging technologies such as AI and robotics will be mainstream, so it's imperative that the younger generation of Australians have a strong knowledge of STEM," Jackson said.
"In fact, it's been said that many of the jobs that today's youth will eventually have, are yet to be created. We encourage every child in Australia to study STEM – and to understand how technology and science will play a vital role in evolving our country."
Jackson said principals can use the Marvel University film series and comic book as a teaching aide.
"By bringing attention to the cool activities that you can do using STEM, children are more engaged and interested in learning about the opportunities that technology can bring," Jackson said.
"While technology is an integral part of our lives, it's not something that is front of mind for children. We want to encourage the younger generation to think about a career in tech or science and to grow their interest as they move through education."
Related stories:
Preparing the natives of the Fourth Industrial Revolution
How principals can become technology leaders
Is your school using its full tech potential?