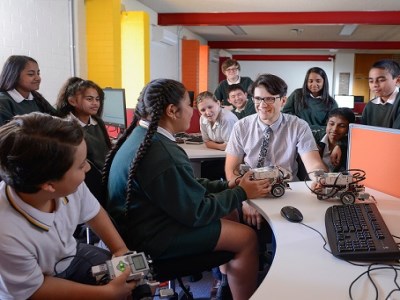 Outstanding teaching and school leadership will soon be recognised and rewarded by a new national Teaching Awards and Fellowship program.
The Awards are open to all registered teachers and principals across K-12 education, and are supported by the Commonwealth Bank and the
Pioneers in Philanthropy
, a key initiative of
Schools Plus
.
Twelve outstanding teachers and principals will become the inaugural Teaching Fellows when the Awards are presented in March 2017.
Each Fellowship is valued at $45,000, which includes $10,000 for professional development plus participation in a year-long program, including a group visit to Singapore to observe its education system valued at $5,000.
Each Fellow's school also receives $30,000 to put towards a significant project that will improve its students' performance and wellbeing.
Schools Plus CEO,
Rosemary Conn
, told
The Educator
that the Awards aim to influence the future of Australian education by rewarding inspiring teachers and principals and showcasing examples of leading practice.
"We know there's a lot of research about what will make an impact in schools but the rubber really hits the road in the classroom – and that's where a great teacher can make all the difference," Conn said.
"The impact of the teaching awards goes beyond just an awards night. The awards will shine a spotlight on great teaching practices and the fellowship will build a group of influencers within the education system."
Conn added that raising the profile of the teaching profession was also "incredibly important", saying one of the main goals of the awards was to "give teachers the recognition amongst the general public that they deserve".
"Schools Plus is focused on ensuring every student fulfils their potential, regardless of background – a goal which we share with schools," she said.
"Some of the school leaders I've met who are really successful in setting up philanthropic relationships are those who have built strong connections with their community."
Conn said these teachers had "thought strategically" about how philanthropy could make a difference to their schools.
"They know how to nurture relationships and they understand the importance of measuring outcomes relating to the partnership."
Conn said the "ultimate goal" of the Pioneers was to grow philanthropic support for schools which need it most.
"At the end of the day, we hope the awards will give greater recognition to teachers, create a community of education influencers and grow a broader understanding of not only 'what works' in education but also how to put that knowledge into practice effectively in the classroom," she said.
Applications for the new Teaching Awards are open until Wednesday, November 30. Twelve outstanding teachers and principals will become the inaugural Teaching Fellows when the Awards are presented in March 2017.
For more information, visit the Teaching Awards website
here
.