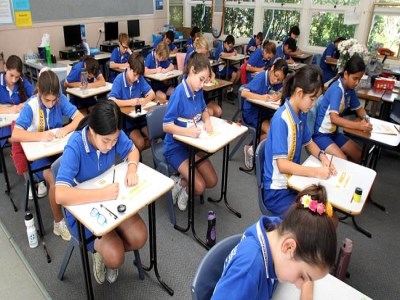 A new report on how to ensure a sustainable schooling system in NSW has received a mixed reaction from the state's leaders.
The report – by the acting NSW Auditor-General, Ian Goodwin – set out a series of key findings and recommendations as to how to address chronic under-investment in the state's schools.
Among the findings were that there are more than 700 unused classrooms in dozens of single-sex schools – an issue that Goodwin said could be resolved by either increasing class sizes or converting some selective schools into co-ed institutions.
The largest classroom shortages are in northwest and southwest Sydney, but NSW Premier, Gladys Berejiklian and the state's Education Minister, Rob Stokes, have both rejected the idea of increasing class sizes.
However, Stokes said he would consider the report's suggestion that "under-utilised" single sex schools be forced to become co-ed.
"It won't be right for every school, but certainly in some cases there may be a case based on local circumstance to look at new ways to have access to local comprehensive high schools," Stokes told reporters yesterday.
Currently, there are 242 empty classrooms in 19 boys-only comprehensive high schools, and 155 empty classrooms in 24 girls-only comprehensive high schools.
Further supporting its case, the report said there are 164 empty classrooms in 21 fully selective high schools and 153 empty classrooms in 15 sports and arts specialist high schools.
"The Department's funding estimates are conservative due to the scale of proposed reform, the radical change it represents, and the risks to implementation," Goodwin stated in the report.
"Any changes to such policies have implications beyond just infrastructure cost and are likely to be even more controversial."
Research has shown that more than 7,000 extra classrooms are needed to accommodate future enrolments by 2031.
NSW Opposition Leader, Luke Foley, rejected the idea of any increase to class sizes.
"Last week I said they're softening us up for increased class sizes and I think this report today confirms that," Foley said.
"Increased class sizes are put forward as perhaps the only option in the circumstances to solve the problem, but it's not the only option."