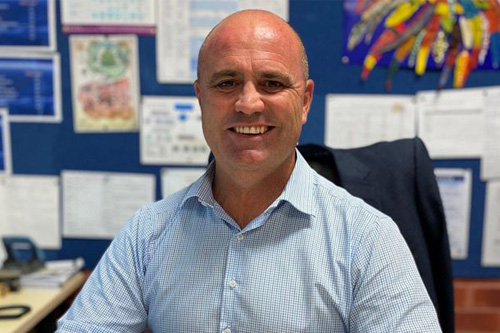 In times of anxiety, crisis and doubt, it is sometimes suggested that we reflect on the things we should be grateful for, rather than the things that might be going wrong in our lives.
A growing body of research shows that a strong sense of gratitude can help people develop a positive mindset and improve their mental wellbeing – and one NSW principal is seeing this translate into promising results at his school.
With Term 2 now in motion, Berry Public School is using gratitude as a wellbeing strategy to help its staff and students navigate this strange, uncertain and challenging time.
The school will be posting photos of its teachers sharing some ideas of fun tasks about how students can practise these skills at home with their families. One such task includes each family member writing down something they are grateful for each day.
Principal Bob Willetts – who is also vice-president of the NSW Primary Principals Association (NSWPPA) – says it is important that children see and hear the impact of their letters of gratitude.
"When the recipient of a positive letter /message acknowledges the student and the positive feedback, it strengthens their relationship by building positive connections and trust," Willetts told The Educator.
"Also importantly, the cultural shift towards a culture of gratitude builds the health and wellbeing of the adults in the organisation [Parents and staff] that directly impacts on the children".
Willetts noted that while doing the activities and building examples into programs like "Wellbeing Week" is important and a great start, it is far more powerful and beneficial to make positive recognition and gratitude a habit.
"As a leader it is important to model gratitude, start you meetings by doing something like acknowledging "Goals we've kicked" or thanking the staff member who led the last professional learning session, or highlighting the positive impact of a behaviour," he said.
"Teachers are the ones that have the greatest influence on student learning and wellbeing, so if a culture of giving gratitude improves their wellbeing it will directly flow onto the students".
Peak performance researcher Dr Adam Fraser said research shows that practising gratitude not only improves wellbeing but also builds resilience and motivation.
"Studies have also shown that people who have been through really difficult events, as many are now with the coronavirus, come out the other side far better when they practice gratitude," he said.
'Beyond a pleasant surprise'
One parent who has seen the value of this approach is Cindy Pretious, whose husband was at sea with the navy for most of 2018 and 2019 when her boys, Ethan 8 and Harrison 6 started Kindergarten.
"It was a nervous time for us all as we were also in the middle of moving house. I think when your child starts school it is a nervous time for all anyway – let alone moving house – and having your husband/Dad away for so long," she said.
"What I have found over the past two years, which was beyond a pleasant surprise was that the school really embraced us and our circumstances".
Pretious said the school not only provided a safe and learning focused platform for her boys but also spent a lot of time on their mental health, providing fundamental strategies and coping mechanisms for them to handle all situations they were faced with.
"Those first few years were tough to say the least, however we focused hugely on being grateful for various things in our lives. This was reinforced at school which really helped not only my kids remain positive but myself also," she said.
"My boys have learnt that being able to identify your gratitude for a situation is a far more positive way to be and thus has kept them from often feeling sorry for themselves – especially in times where their Dad was not present".
Appreciating the simple, but important, things
Berry Public School captain Kayla Smith said she is grateful that despite all of the restrictions and challenges, the school and its community are still able to maintain some level of normality.
"This includes being grateful to my family, my friends and the entire Berry Public school community. Thank you teachers and administration staff!" she said in a letter to the principal.
"I am also grateful to all of the many people out there that are unknown and unseen to me that quietly work tirelessly in contributing to making our community strong and resilient during this time".
Smith also expressed gratitude for the many things she has learned since her current different way of life began.
"I have a better understanding and appreciation of so many amazing things because of this pandemic - often the most simple things I have often previously taken for granted," she wrote.
"For instance, the simple ways I can help my parents around the house that don't take much effort, but make a huge difference to their daily lives".
This article is part of an ongoing series of good news stories focused on how principals, teachers and students are showing compassion, courage and humanity during this challenging and uncertain time.