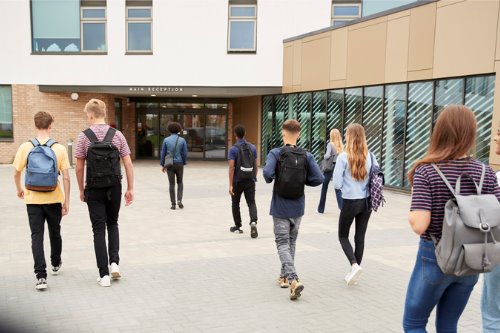 by Correna Haythorpe
As nearly four million students head back to school across the country, one thing is becoming abundantly clear - more new students are enrolling in public schools than in any other sector. This is fantastic news for students, teachers and parents alike, but it raises issues which we must deal with now before they become more serious.
According to the 2019 school student enrolment figures from the Australian Bureau of Statistics (ABS), public school enrolments have increased again in seven of eight states and territories, and teachers in Australia's public schools will be teaching 37,000 more students than last year, and 150,000 more than just five years ago. By comparison, private schools saw growth of 55,000 students over five years, while Catholic school enrolments have flat lined for many years and only grew by 4,000 students last year.
With so many new students flooding into the public school system, state governments are confronted with the need to refurbish and expand existing schools or build new schools. However, it's a national issue and the Commonwealth must take the lead in this process. Yet the Federal Government has not only ignored the issue but systematically dismantled any commitment to public school infrastructure needs.
In 2017 then-Prime Minister Malcolm Turnbull introduced legislation which handed private schools $1.9 billion in capital works funding over ten years, while simultaneously scrapping a Commonwealth-funded dedicated public school capital works fund worth hundreds of millions of dollars per year.
To date the Morrison Government has point-blank refused to consider reversing this decision and to providing any equivalent capital funding for public schools, despite those extra 150,000 additional public school students in the past five years.
The Commonwealth must acknowledge that it is public schools which are welcoming the vast majority of new student enrolments and adjust its school infrastructure funding priorities accordingly. Under the Morrison Government's current infrastructure funding policy, private schools will receive $1.9 billion in capital funding in the ten years to 2027, while public schools will not receive a single dollar of equivalent funding.
What does this mean in on the ground? It means the Morrison Government is ignoring the needs of millions of students by refusing to provide capital funding for new classrooms and learning facilities for public schools. This absence of federal capital works funding leads to unmet need in the public system and entrenches inequality between the school sectors.
It is unfair to the two out of every three children who attend public schools that the Morrison Government is ignoring their school infrastructure needs while lavishing capital funding on private schools.
Not surprisingly, the flood of new students being welcomed into public schools is creating pressures in the classroom. Some schools are dealing with larger class sizes or a shortage of classrooms and other infrastructure while they wait for an upgrade. This creates extra stress and workloads for teachers and education support staff.
This is a nationwide issue and therefore the Commonwealth must offer a national solution.
A recent survey by Monash University contained some eye-opening statistics. According to its 'Perceptions of Teachers and Teaching in Australia' survey, 75% of teachers said that their current workload was not manageable. In a wake-up call to governments, the survey also reported that one in five teachers said they planned to leave the profession in the near future, largely due to overwhelming workload and burnout. These statistics are unfortunately not surprising as they demonstrate the rising outcry about excessive workload, which takes teachers away from the core business of teaching their students.
Unsustainable workloads, class size and complexity and a lack of Commonwealth capital works investment are urgent problems for our schools, and we cannot afford to leave these unaddressed.
With increasing student enrolments, we must ensure that we can recruit and retain fully qualified and experienced teachers, and this must be recognised by politicians at both a state and federal level.
Australia's public schools deliver an outstanding education, and recent soaring public school enrolments are fitting recognition by parents of the esteem in which they hold our public schools.
It's time that the Morrison Government shows the public school system that same level of respect.
Correna Haythorpe is the Federal President of the Australian Education Union.