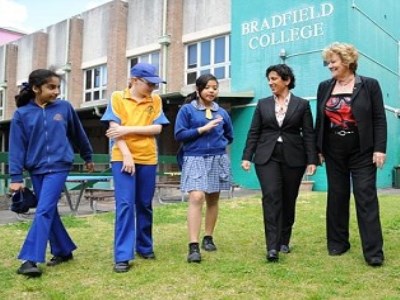 Her school has no history or community ties to draw from, so as its incoming principal,
Kathy Melky
is truly starting from scratch.
Cammeraygal High School
opened to 120 Year 7 students in January, hosting brand new facilities, such as a science lab, gymnasium, library, canteen and a 21
st
century learning space for students.
Located at the current Bradfield College site, the coeducational public school is the first to open on the North Shore in 43 years, despite the closure of 11 schools in the area since the 1980s.
Along with the students and the community itself, Melky was also instrumental in the planning of the school and says she is already proud to be the school's principal.
"I am very proud to be the principal of Cammeraygal High School. I certainly see the great challenge and unique undertaking we have ahead of us," Melky told
The Educator
.
"I have been involved in the planning of the school since Term 4 2014, and since that time I have had the exciting task of working with our parent body to name the school, design the uniform and logo, and choose a motto."
Melky said that catering to the academic and environmental needs of the students was a significant factor when planning the school.
"The school has been designed to allow our students to be prepared as informed and empowered citizens as they enter and progress through their high school years," Melky explained.
"Our motto is 'Empowered to Achieve' and it sets a positive tone for the all-round excellence that Cammeraygal High School promotes."
Heading into 2015, Melky said her vision for her "relevant and responsive" school is focused on the needs of its students.
"My vision for Cammeraygal High School is that we will continue to develop a school that is relevant and responsive to the needs of all of our students.
"I certainly acknowledge the huge contribution my teaching and administration staff has already made towards our school and I applaud them for their ongoing efforts as we move forward," Melky said.
"Our jobs as educators don't get better than this!"