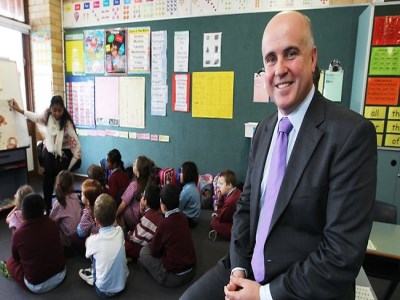 NSW students are lagging behind, but don't worry – NSW Education Minister
Adrian Piccoli
has a plan.
The annual Auditor-General's report released on Friday has revealed that the number of students who met the minimum standards in the National Assessment Program – Literacy and Numeracy (NAPLAN) tests has decreased since 2011.
The report - the latest on the state's education system - also found that children are starting kindergarten less academically prepared than they were three years ago. In addition, it showed a decrease in the number of students with the basic skills they need when starting school.
In a separate finding, NAPLAN's 2014 report showed student participation in the tests at an all-time low, as more parents decide to withdraw their children from testing. The withdrawal rate among Year 3 students rose almost 1% since 2010, with more than 2% of Year 5 students having withdrawn from testing.
In response to the findings of the Auditor-General's report, NSW Education Minister Adrian Piccoli last week outlined a plan to have all schools show parents how they're lifting their education standards.
Starting from next year, NSW schools will have to explain how they will improve literacy and numeracy, increase the proportion of HSC students achieving top marks and ensure teachers are maintaining high levels of expertise in the subjects they teach.
The self-assessment plan will require schools to review 14 key areas of teaching and leadership, as well as examine how teachers are maintaining and improving their skills.
Piccoli said that schools must lift the quality of teaching and focus on delivering better student learning outcomes.
"What we don't want is coasting schools where we have middle class kids just coasting along and doing well because of the nature of their background," Piccoli said.
"We want these kids extended and so for even the highest performing schools likes James Ruse, with kids who might all get band 6s in the HSC, we want them to do even better.
"But we also want kids from western Sydney or some of the toughest areas of the state to improve each year because we absolutely need a year's worth of growth for every year of school ... that is the least that parents expect."