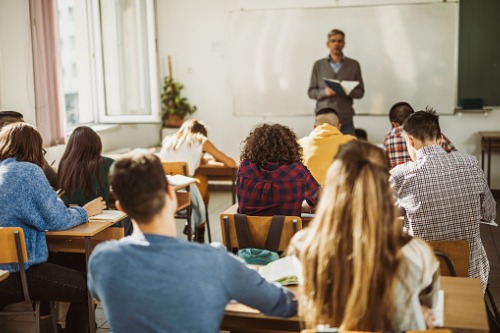 Australia's 15-year-olds have fallen to meet the OECD average in mathematics skills – for the first time in the assessment's history.
The OECD Programme for International Student Assessment (PISA) 2018 report, released today the Australian Council for Educational Research (ACER), measured the performance of more than 600 000 students in 79 countries.
Maths performance was down in all states and territories, with significant declines observed in South Australia, NSW, Tasmania, Western Australia and the ACT in particular. The smallest decline was recorded in Victoria.
NSW recorded the most significant drop of all the states in both reading and science since the PISA tests first began in the early 2000s, and also recorded a massive drop in maths outcomes.
The report also revealed a significant gender gap in maths performance in favour of male students, despite the gap being closed in 2015.
Girls performed significantly higher than boys in reading literacy – not just in Australia but across all participating countries. Sixty-five per cent of Australian girls attained the National Proficient Level in reading literacy, compared to 54% of Australian boys.
'This is about more than just test-taking'
PISA National Project Manager, ACER Deputy CEO (Research) Dr Sue Thomson, said Australia had always exceeded OECD averages – until 2018.
"We have observed continuing falls in our results since PISA began in 2000 and yet again the data tell us we have failed to lift our performance," Dr Thomson said.
"This is about much more than just 'test-taking' – it's about how well we are preparing Australia's students for adult life."
Five countries whose mathematics performance was on par with Australia's in their first PISA assessment now outperform Australia; and, of 16 countries whose maths performance was lower than Australia's in their first PISA assessment, nine now outperform Australia and seven are now on par with Australia.
"There is a pattern of improvement in maths performance in comparable countries that just isn't replicated in Australia," Dr Thomson said.
Key gaps widening across sectors and demographics
Australia's private school students performed better than students in Catholic schools, and Catholic school students performed better than students in government schools.
When it came to the performance of Indigenous students across all assessment domains, outcomes were significantly lower than their non-Indigenous peers.
Approximately one-third of Indigenous students met the National Proficient Standard in each domain compared with approximately two-thirds of non-Indigenous students.
The report also highlighted the socioeconomic disparity, revealing that students from higher SES backgrounds performed at a higher level across all domains than those from lower SES backgrounds.
Metropolitan schools also outperformed less well-off regional schools and provincial schools across all domains. The report also found that students in provincial schools performed at a higher level than students in remote schools.
The differences in the performance of metropolitan and provincial school students were equivalent to around two-thirds a year of schooling in reading literacy and scientific literacy and around three-quarters of a year in mathematical literacy.
'These results should have alarm bells ringing'
Federal Education Minister Dan Tehan said states and territories must refocus on the basics of literacy and numeracy.
"Next week's Education Council meeting provides the opportunity to reset the national education agenda and we must be bold in doing so," Minister Tehan said.
"Australia's results in the PISA tests are very disappointing, especially in mathematics and science. These results should have alarm bells ringing."
Minister Tehan said Australia should be a leader in school education.
"Our students should be ranked among the best in the world. We should not accept anything less," he said.
"The time has come for us to change direction."