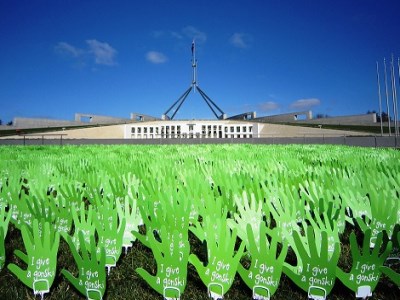 The Federal Government is expected to unveil fundamental changes to school funding, locking horns with the states and unions.
Speaking on
ABC National Radio AM
this morning, Federal Education Minister,
Simon Birmingham
, said the current funding agreements with the states and territories were a "corruption" of the
David Gonski
's original model.
The comments come as Federal and State education ministers prepare to meet tomorrow to begin negotiations for a new four-year school funding model, due to commence in 2018.
Birmingham plans to replace the current model, made up of 27 separate patchwork agreements, with a "­nationally consistent" model he says will be "distributed fairly and according to need".
He argued the case in figures his office released this morning, which purported to show a raft of inequalities under the current model.
One of them showed that from next year, Tasmania will attract 40% more Commonwealth funding than comparable schools in Western Australia with the same need.
Another pointed out that in 2014, a Victorian Catholic systemic school attracted more than double the Commonwealth funding per student than a similar school in NSW, while an ACT independent school in 2014 received 64% more federal funding per student than a comparable WA school.
"We have a situation where at present you can look at schools in Australia with exactly the same demographic composition of its students, the same levels of need, the same type of circumstances and yet in one state or territory they're getting around $1,500 more from the federal taxpayer than in another state or territory," Birmingham said.
"Now that doesn't seem like the type of fair, needs-based consistently applied model that allegedly the Gonski deal was talking about."
Last week, public school advocates,
Save Our Schools
(SOS) weighed into the
war of words
between the Federal Government and the
Australian Education Union
(AEU), calling the Federal Government's school funding figures into question.
In an
analysis
of the Productivity Commission's report, SOS said it was the Federal Government which had failed to lift the bonnet on its own funding figures, adding that its "funding engine is badly misfiring".
"The Commission has greatly exaggerated the actual increase in funding and it has missed the key point that past funding increases have not been directed at reducing under-performance," SOS national convenor,
Trevor Cobbold
, said in a statement.
"Past funding increases have favoured more advantaged schools over disadvantaged schools. As a result, school performance has largely stagnated over the past 10 years."
Responding to Birmingham's comments, Australian Education Union (AEU) federal president, Correna Haythorpe, said that the Coalition's plan would cost schools $3.9bn in 2018 and 2019 alone by failing to fund Gonski in full.
"Pitting one state against another will do nothing to lift results in schools – what is needed is to lift our overall investment in schools and target the extra funds to addressing disadvantage," Haythorpe said.
"It will still see 62% of federal funding increases distributed to private schools, whose needs are far less than public systems. Now Education Minister Simon Birmingham is saying he wants to take funds from some States and give them to others. How will that improve results for students?"
However, Birmingham has defended the Federal Government's school spending record, saying that its plan will ensure a fairer system and adding that funding will grow from a budgeted $16bn this year to around $20.1bn by 2020.
"That's above inflation, above enrolment growth. It is real growth into Australian schools from the Federal Government's perspective," he said.
A new four-year school funding agreement is due to be signed off by leaders at the Council of Australian Governments (COAG) meeting in early 2017.