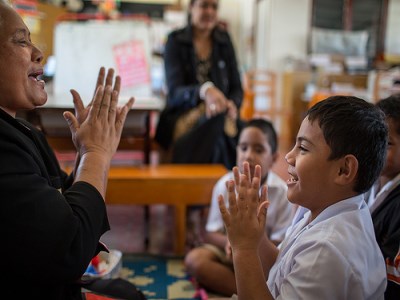 The reason why students with disability are not getting the education they deserve is due to a lack of political will, says the
Australian Education Union
's (AEU) federal president, Correna Haythorpe.
In a statement today, Haythorpe called on Federal Education Minister,
Simon Birmingham
, to show leadership and deliver the promised funding to fill a "huge unmet need" in the education system.
"We don't have a lack of data, we have a lack of political will to ensure students with disability can get the education they deserve," she said.
"Despite five years of data collection and repeated promises by the Federal Government that extra funding would go to schools from 2016, we are no closer to getting the extra resources that schools desperately need.
"These continued delays are hurting some of the most vulnerable students in Australia and preventing them from getting the education they need."
The Nationally Consistent Collection of Data for disability for 2015 data found that 12.5% of students need "supplementary, substantial or extensive support" – compared with only 5.3% of students currently getting funded support.
Mark Grierson, CEO of Disability Advocacy NSW, told the
ABC
that it was "a very common trend" to see students with autism being excluded from school.
"Because of their behaviours they're being sent home or are being asked to be home schooled," he said.
"Other examples we have are of kids being put in sensory rooms or put in the library to exclude them from the playground to stop them being bullied or harassed by other children.
"It really is about resources."
Grierson said that despite being provided learning support in regular and specialist support classes across the state, other initiatives were needed.
"We have an expectation that kids with autism and other types of disabilities can survive in a regular school, that's what many parents want," he said.
"But the schools also need resources to deal with their particular needs so they're not just sent home when there's a problem to get the problem out of the way."