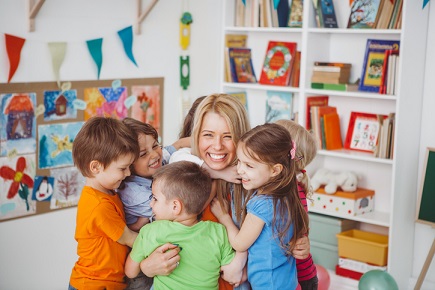 Over 130 Year 5-6 Victorian students have come together to create a better future using the United Nation's (UN) Global Goals.
In partnership with the Asia Education Foundation, the Department's International Education Division coordinated the Global Goals Primary Forum at Canterbury Primary School.
The UN's Global Goals for Sustainable Development are 17 goals for a better world by 2030 – when today's children will become adults. The forum focused on the goals of good health and wellbeing, sustainable cities and communities, and responsible consumption and production.
Students had the task of designing a service that all children across different cultural backgrounds and abilities could use. They had access to the Nudel Kart, a cart made up of deconstructable pieces that you can pull apart to build different objects.
Asia Education Foundation CEO, Hamish Curry, says they found that young people are interested in play and connecting to other young people, not just in Victoria, but around the world, so these forums can form a part of their intercultural learning.
'[It's an] opportunity to break out of an everyday mould and start to develop the kind of empathy for those around them, and…. to hear other stories and respectfully engage in other ideas,' Hamish says.
Students confront tomorrow's challenges today
Year 6 student Asta from Canterbury Primary School worked with her group on a way to help children with their education in hospitals and remote countries.
'We've been learning about some of the problems in the world and coming up with ideas to solve them,' Asta says.
'[We learned] to look after what you have and not to destroy things, because it can affect how everybody reacts and what will happen in the future.'
Year 6 student Denisa from Point Cook P-9 and her group used the Nudel Cart to build a toy boat with a trampoline inside. Denisa says that the most important thing she learned was that she felt lucky to live in Australia.
'Kids around the world are dealing with bad environments and climate change – especially safety,' Denisa said.
Globally engaged learners and Asia education foundation youth forums
Lysterfield Primary School Learning Specialist Christine Russ was inspired to register the school in the forum after completing the Bastow Building Global Citizenship Course.
'I think that exposing them to opportunities like this, getting them out there and realising that there's more than where they are in Lysterfield, just adds to their experience and understanding about the world, and to help them to become a global citizen,' Christine says.
Assistant Principal Jenny Gigas says they registered out of a need for more social conscience projects in the school curriculum. 'We knew that the UN Goals were really important and we wanted our kids to understand that as well,' Jenny says.
Funding for this Global Goals Forum is a part of the International Education Division's broader Globally Engaged Learners program. The funding purchases places in high quality student-focussed global learning workshops and forums, with a preference given to students who are from a low socio-economic background and/or geographical location that makes accessing such opportunities difficult.
This program encourages students to develop their global awareness and intercultural understanding so they can become active and informed global citizens and have the skills they need to succeed in an increasingly inter-connected world.
This story was originally published on the Victorian Department of Education's website.