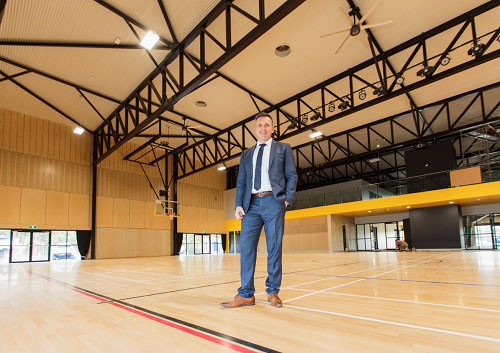 In 2018, St Philip's Christian College, located in Cessnock, NSW, implemented three gym and fitness sessions into the learning timetables for students from Years 5-10.
All lessons are carried out in the College's new $7m state-of-the-art sports centre, which has been seeing a significant impact on staff cohesion and performance.
Below, The Educator speaks to the College's principal, Darren Cox to find out more.
TE: What factors prompted the College to implement three gym and fitness sessions into the learning timetables for its Year 5-10 students?
DC: Due to the ever increasing rates of teenage obesity and the poor fitness levels of young people, as a school we decided to be proactive and think outside the box in order to tackle this issue. It would appear as though current approaches to PE are not making inroads to this ever increasing issue and therefore something different, something radical, needed to be done and as a school we pride ourselves on being innovative. There is also an ever increasing issue with the mental health and wellbeing of young people and all of the research and data suggests that exercise is the best way to improve your mental health. As such, we decided that all students deserve the opportunity to improve their physical fitness and mental health and wellbeing and so hence our timetabling of 3 gym sessions per week.
TE: In your view, what is the greatest value of these 'active sessions' to students?
DC: The feedback we have received from students and their families has been overwhelmingly positive with students reporting they are feeling more alert and attentive during the day and are sleeping better at night. Other students have reflected that they have felt better within themselves and has given them a more positive outlook on the day. There ae many students who are using the gym from 6.30 am and the parents of these students are noting that their students are spending less time on screens in the afternoon/evening are going to bed earlier and are sleeping better. All students fully engage during these sessions without ever having to be asked twice.
TE: I understand that the sport centre's sessions have had a significantly positive impact on staff cohesion and performance. Can you tell us more about this?
DC: As an employer of choice, it is important to be able to support our staff in as many ways possible by providing them a state of the art gym that they can use at any time. There are large numbers of staff using the gym before school and after school, many of whom have never used a gym in their life. It has been extremely encouraging to see more mature members of staff engaging in this space and reporting just how much healthier they feel. Seeing staff laughing together, supporting one another, encouraging each other during workouts has been extremely satisfying and has led to happier teams throughout the school. The students also love working out side by side with the teachers as it humanises the teacher and establishes a common bond.