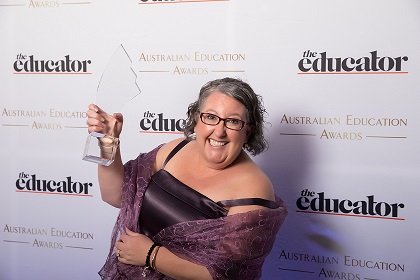 Name one challenging aspect of a school's daily operations and you can bet that Kurri Kurri High School has it covered.
From student learning and administration to staff workloads, principal Tracey Breese is making sure that all teachers and students get the absolute best out of their experience between the time they enter, and leave, the school gates.
Recognising the value of student agency in an age where self-directed learning is producing significant outcomes, the school has set out to completely reimagine the traditional learning environment.
One example of this is the school's 'ProjectNest', which segments Year 7 and 8 students into progressively smaller groups, from Hubs (consisting of 60 students) to Pods (20 students) to Huddles (three to six students), for project-based learning.
"If you could reimagine school as a place where students design and deliver their own learning, that's what we're doing at Kurri Kurri High School," Breese told The Educator.
"We've now got a system where we have a 100% submission rate for assessments in Year 7."
The school's many and varied innovations were recently celebrated at the inaugural Australian Education Awards in August, where Kurri Kurri High School won the Innovation in Learning Environment Design award.
"We really appreciate that the Australian Education Awards recognise the really hard work that is done every day in every school across our state to make learning wonderful for children," Breese said upon accepting the award.
Resolving workload issues
In 2008, the school overhauled its timetabling to provide greater flexibility to students and staff. The solution the school chose was Edval Daily, which improved the school's daily organisation, allowing for savings which make the software cost-neutral.
"Efficient timetabling is fundamental to the structure and running of our school. I've noticed vast improvements since bringing it on board," Breese said.
"Without a good timetable structure, and without flexibility in that structure, schools can become very constricted by what they can offer."
Breese said that in a time of change and shift around student choice, the capacity to timetable, and shift the way timetabling is done, can be really constricting. However, she said these issues have been overcome on multiple levels with the new software.
"Edval Daily is being printed and processed across the school so that everyone is aware of where each teacher is, as well as the cover that is required for their classes," she said.
"This makes the flow and management of the mornings a lot easier than pen and paper, and trying to plug holes with a number of casuals."
With reports showing rising workloads impacting on the physical and mental wellbeing of educators, Breese took the decision to employ a business manager to attend to administrative duties and let staff get back to teaching and learning.
"The business manager does not necessarily have any idea about the landscape of running a school, so that person has come in to take over calling casuals, because it is an administrative role that doesn't need a teacher to support it," she explained.
Breese said the structure of her school's new timetabling service allows someone with administrative and business experience – but not necessarily teaching experience – to manage the school.
"This has allowed me, as the principal, to free up the admin of that role for my head teacher of admin and allow her to get back to teaching and learning in the classroom," Breese said.