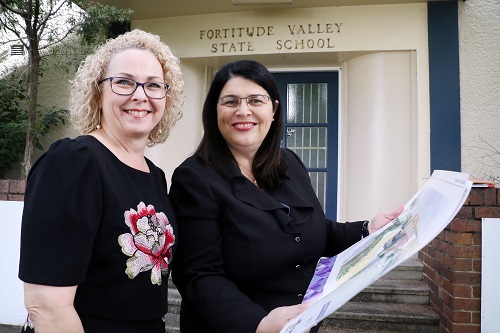 Unlike most principals, Sharon Barker is no stranger to opening a new school.
Four years ago, Barker was appointed the foundation principal of Highfields State Secondary College, located north of Toowoomba, Queensland. And in September, she will do it again – this time at Brisbane's Inner City North State Secondary College.
However, two big challenges await Barker. One is that having spent her 30 year career in education in the Darling Downs region, she is entirely new to the school community she will be leading.
The other challenge is that the school's architecture is markedly different to what she is used to. Inner City North State Secondary College is a 'vertical school', comprising of two seven-story buildings and no oval.
Still, she's ready to tackle these challenges head-on.
"The whole concept of opening a new school was new to me back then, and I think the advantage I have going in as a foundation principal is that I have a fairly good idea about the challenges involved with opening a new school," Barker told The Educator.
"But the biggest challenge at Inner City North State Secondary College is going to be around the vertical nature of the school."
Barker doesn't think the community's expectations and culture will be very different from that of her previous school, but points to the importance of actively involving students, staff and parents in the decision-making process.
"If I went in and said 'this is what happened in my own school' and 'let's have the same vision', that won't build a positive culture at the new school," Barker explained.
"I want our students to come to school and be happy, because happy kids like coming to school, and happy kids will be successful. Our aim is to help them achieve their goals so that when they leave school, they feel like they'll be successful."
Barker said that while this aim won't be any different at the new school, how she and her staff go about working with the community to achieve this will be "critical".
Managing change for students and for staff
Barker said one of her biggest learnings coming out of a new school has been the way principals should manage change for students and staff.
"In the first year that we opened Highfields State Secondary College we had 262 Year 7 and 8 students, and 15 teachers. However, next year, these numbers doubled," she said.
"The interesting part was that our students, who felt like they were the kings of the castle, were suddenly faced with an influx of new kids at a school they felt they owned."
Barker said this presented some challenges around managing how the students should welcome their new peers into the school.
"It's different in an established school where the Year 12 students leave and the Year 7 students start – this was just for them."
"This was also the case with our staff. We had 15 teachers in one staff room with three heads of department who were so close that it felt like a family, and then almost overnight the staff numbers doubled."
Don't lose sight of well-being
Barker said that while the drive by schools to prepare students with 21st century skills is understandable given the rapidly changing technology landscape and workforce, it's important for principals to keep sight of student well-being.
"All of the 21st century skills, like problem-solving, critical thinking and innovation, are obviously important, and we need build that into the curriculum at the school so that we are setting them up for the best possible outcomes at the end of school," she said.
"But well-being is just as important. The pressure on students and staff to perform and succeed is huge. A big part of the principal role is making sure they are cared for, looked after and that at the end of their school journey they are well and happy."
Barker cautioned that these potential health and well-being issues can fly under the radar and have far-reaching consequences if not detected.
"Teachers, department heads and principals are professionals, and they will look after the curriculum, but it is always the other things that have such a significant impact on teachers and staff that I need to be really conscious of in my new role."
Barker said she is most excited by the fact that Inner City North State Secondary College is the first one of its kind in Queensland.
"This will give me and the staff a chance to do something really unique," she said.
"Opening a school is not a unique thing, but to go into a school that is very different physically, certainly is. The journey of creating a great culture in an environment that is very new to all of us will be very exciting."
Related stories:
New vertical school 'a masterpiece'
Victoria's first vertical school opens its doors