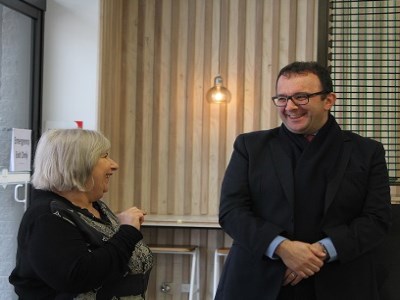 School principals have one of the busiest jobs going, but Marco Di Cesare doesn't let that get in the way of having a personal impact in every area of his school.
Di Cesare, who has been head of Melbourne's Caroline Chisholm Catholic College for the last five years, considers himself a coach, mentor, guide, role model and school leader all rolled into one.
One important factor behind this attitude is the college's diverse community, which includes more than 60 different nationalities, each with their own cultural and ethnic backgrounds.
It might not come as a surprise then that building a strong family network with parents was one of the first things Di Cesare set out to do upon becoming principal of the college.
"We're a school with three campuses and 1,500 kids, so we've got our own unique issues – but I had to put my money where my mouth was. I couldn't talk about the personalised approach I was advocating without being involved. I had to lead this change," Di Cesare told The Educator.
This personalised approach involves routine calls and personal meetings between Di Cesare and parents, with the ultimate aim being a community that enjoys a personal and meaningful connection with the college's leadership.
"I call the parents up and discuss things informally; whether it's certain changes in their child's behaviour or any academic issues they're having at school. This can be in a positive or negative context, but the most important part of this is that parents know that if have any concerns whatsoever, they know they can contact me directly," he said.
"It's about forming the relationship between staff, student and parent. For me, that's the most important thing. We're a diverse community, so sometimes there are language barriers, but once you get to know the parent, you don't need interpreters".
Di Cesare said this is because parents don't feel like they need "the extra layer" of communication, and adds that this also makes conversations "much more straight-forward and honest".
"I talk to families and students about their progress so they don't need to go to different teachers to ask them what they should be doing. I look at the school and its students holistically," he said.
"We've done a lot of work in our family partnerships area as well. We work with a private provider to deliver English classes for ESL parents. This allows them to understand the school speak, and other topics, such as what it means to go to a university rather than a TAFE."
And the concept of deep inclusion is not limited to the parent community. Di Cesare envisions a model where each member of his executive exhibits the same kind of learner-mentor role as he currently exercises.
"In the next year or so I want the deputy principals in the school also being learner-mentors, because then you're not only dealing with your own subject – you're actually looking holistically at all subjects that those kids are taking," Di Cesare said.
"As the principal, this gives me such a better understanding of not only the learning that's happening in the classroom, but also a fantastic understanding of my families, where they're coming from and what they're challenges are."
In order to drive a better targeted approach to achieving teaching and learning outcomes at the college, Di Cesare has four deputies in his executive who each focus on key teaching and learning areas.
"We currently have a deputy of strategic and education innovation, well-being, staffing and teaching and learning," Di Cesare said.
"A new role we're looking to bring in from next year is the collaborative learning leader, who will work with the year level to push collaboration and work with staff on developing not only what we're teaching but how we're teaching."
Di Cesare said all people who hold positions in the college act as a coach for other staff, allowing a "trickle down" effect where leaders are continually developed.
"In terms of the needs of each individual staff member, it means that we can track what is needed by each staff member, as well as what professional learning is needed," he said.
"We look at where each individual staff member wants to be in terms of their vocation as a teacher. We ask them what areas they want to move into as a teacher and how we can help them get there."